Greyline PT400 Portable Transit Time Flow Meter
Portable Ultrasonic Flowmeter – Vancouver BC
At Southwell Corp, we have been selling and supporting Greyline flow meters in Vancouver and throughout BC for over 15 years. Greyline PT400 Portable Ultrasonic Flowmeter accurately Measures Flow outside of the pipe.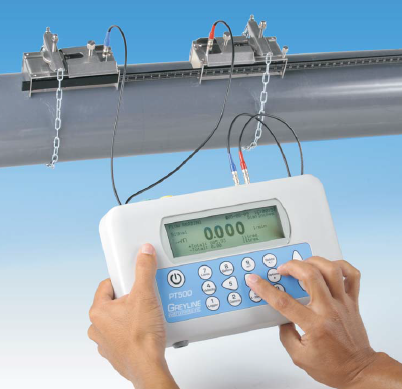 Portable Transit Time Ultrasonic Flowmeter
Accurate Flow measurement
Clean Fluids in Full Pipes
Non-contacting Ultrasonic Sensors
Mounted Outside Plastic or Metal Pipes
Call 1.844.599.0260 to request a quote or email sales@SouthwellCorp.com
Clamp-on Ultrasonic Sensors
Recommended for clean fluids like water, glycol, oil and most chemicals. Portaflow ultrasonic sensors strap-on the outside of pipes from 1/2 to 78 (13 to 2000 mm) diameter. The ultrasonic signal penetrates all common metal and plastic pipe materials. Sensors can be mounted without shutting down flow and there is no obstruction or pressure drop.
Simple Calibration System
Calibration is easy with the onscreen menu system. Enter the pipe diameter, wall thickness and pipe material, and the Portaflow indicates the optimum mounting method and separation distance for the
sensors. Calibration parameters can be stored for up to twenty different sites so that operators can recall calibration setups from the Portaflow memory.
Fully Rechargeable
The Portaflow is powered by an internal, rechargeable NiMH battery or can be operated continuously with AC power input. Use it for spot checks or for extended operation as a 4-20mA flow transmitter. Each Portaflow includes a carrying case, transducer set, mounting track, cables and accessories.
Portable Ultrasonic Flowmeter
Non-Invasive with Clamp-on Sensors for Spot Checks, Troubleshooting and to Balance Flow
Sensor Mounting
Portaflow transducers can be mounted on vertical or horizontal pipe. The pipe must be full.
Choice of "Reflex" or "Diagonal" operating modes depends on the application and pipe diameter. Through the calibration menu you are prompted to enter: pipe OD, pipe wall thickness and lining thickness, pipe material, fluid type and temperature. Once these values are entered into the calibration menu, the Portaflow indicates the transducer mounting mode and correct sensor separation distance.
In most applications Reflex mode mounting will be used for pipes 10 (250 mm) diameter or less, and Diagonal mounting will be used for pipes greater than 10 (250 mm) diameter. Each Portaflow includes stainless steel clamps and a guiderail for easy mounting. Sensor separation distance can be adjusted, and sensors can be extracted and remounted without removing the guiderail or clamps. An acoustic gel (supplied) is used between the sensors and the outside of the pipe to ensure that sound is conducted from the sensors through the pipe wall.

Large Display with User-friendly Calibration Menu
Flow rate and total flow are displayed continuously along with battery status, signal strength, plus any error messages. Press one key to instantly change the units of flow measurement (eg. from gallons to litres). Real time flow can be displayed in large numeric values or as a graph.
Calibration is easy with the Portaflow menu system. Use the "Quick Start" menu to enter pipe OD, wall thickness, pipe material, fluid type and temperature. The flowmeter will prompt with the correct mounting method and sensor separation distance and begin reading flow as soon as the sensors are mounted.
Measures, Totalizes and Transmits Flow in BOTH Directions
Forward flow is displayed on the Portaflow as a positive value and reverse flow is shown as a negative value. Separate 12-digit totals for both forward and reverse flow are also displayed. The 4-20mA output can be configured with 4mA as zero flow, or with 4mA as a negative value and 20mA as a positive value.
Stores Calibration Set-up for Multiple sites
Calibration data can be stored for up to 20 different sites or applications. If you regularly return to the same pipe location for flow readings, this is a real time-saver. You can enter a site name and all your calibration parameters are automatically saved. When you return to that pipe location, simply recall the site name/number from the set-up menu, mount the sensors and start reading flow.
4-20mA Output
Connect the Portaflow to external displays, recorders, data loggers or controllers. Install sensors without cutting pipe so you can use the Portaflow as a spare or emergency transmitter when in-line flow meters fail. The analog output can be configured for 4-20mA or 0-20mA signal output.
Select 'A' or 'B' Sensor Pairs for Small or Large Pipe Sizes
Order with 'A' Transducers for 0.51 to 4.5" (13 to 115 mm) outside diameter pipes, or 'B' size for 2 to 39.4" (50 to 1000 mm) pipes. Use it on any solid metal or plastic pipe material.
The PT400 displays, totalizes and transmits with isolated 4-20mA and programmable pulse outputs. The rechargeable NiMH batteries will power the unit for 16 hours continuous operation and charges overnight.
It takes just a few minutes to install the Transducers and measure flow from outside the pipe. Measure flow in volumetric units (gallons or liters) or switch to velocity units (ft/sec or m/sec) with a single key press. Forward and reverse flow is displayed and totalized on the large, backlit display.
Operate the PT400 from internal NiMH batteries or continuously with the 110-240VAC charger supplied. Signal strength and battery state is displayed. Select from 9 menu system languages including English, Spanish, French, German and Russian.
Greyline PT400 Portable Ultrasonic Flowmeter Availability
The Greyline PT400 Portable Ultrasonic Flowmeter  is available in BC through Southwell Corp. We ship to Vancouver, Victoria, Burnaby, New Westminster, Surrey, Abbotsford, Kelowna, Kamloops, Vancouver Island, Prince George and every other town in BC.
Call 1.844.599.0260 to request a quote or email sales@SouthwellCorp.com
Applications for Greyline Flow Meter Products
Greyline Flow Products are known across many industries as reliable sources of data for your flow systems.
Discuss the specific needs of your project with one of Fiberman's Greyline flow meter experts. We will ensure that the model you select will have the specifications required for safety and optimum performance. You will also benefit from our industry-leading quick quote turnaround and fast delivery across Canada and the US.
For all Greyline Flow Meter inquiries, please call 1.844.599.0260 or email sales@fiberman.ca or Request a Quote.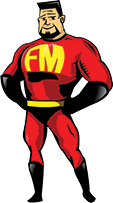 1.844.599.0260
Our Flow Meter experts are ready to help.
Bulk and Wholesale Discounts Available on Large Orders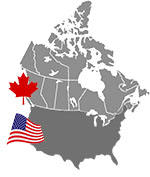 Fast Delivery across Canada and USA via our Superior Logistics Network
We can ship Greyline Flow Meters from a distribution center close to you:
Fiberman's headquarters in Western Canada stocks many Greyline Flow Meter models, ready to ship across British Columbia, Alberta and all provinces in Canada. We have daily shipments from Vancouver to destinations including Edmonton, Calgary and Fort McMurray. For our US customers, we ship from distribution centers in: Pittsburgh, PA; Houston, TX; Knoxville, TN; Rochester, MN; Salt Lake City, Utah; and Orlando, FL.
Fiberman's pricing and service experts are standing by to help to find the best product for your project. With many varieties in stock and expedited shipping, we can supply your project with flow meters at the best possible price with fast delivery.

Fiberglass and Radio Frequency Transparency
In today's connected world, we depend on cellular telephone signals, Wi-Fi networks and over the air radio and television signals. Wi-Fi and Bluetooth connectivity are essential to on-site work environments. Steel structures significantly disrupt these signals. Fiberglass Grating is an essential part of building structures that are "electronically transparent" and do not interfere with radio frequency transmissions.
https://fiberman.ca/wp-content/uploads/2015/06/Greline-PT-400.png
389
402
alph@b3t
https://fiberman.ca/wp-content/uploads/2015/08/fiberman_logo_340x156_best.png
alph@b3t
2015-06-19 14:07:40
2018-04-27 15:30:45
Greyline PT400 Portable Ultrasonic Flowmeter