Fiberman FRP Structures: Fiberglass Angle
FRP Angle products from Fiberman are top-quality structural building components useful in construction and general use.
Aluminum, wood and steel beams are being replaced around the world with stronger fiberglass structural members such as fiberglass angle. Builders are making the switch to fiberglass for construction projects for many reasons. Primary among them is the durability of FRP structures in extreme environments such as waste water treatment (WWTP), chemical processing plants, food processing facilities, or any environment where rust and wear take their toll on steel. How is fiberglass angle from Fiberman different?

FRP Structures and Shapes are:
High in Strength
Corrosion Resistant
Lightweight — Weighs 80% less than Steel
Low in Conductivity — Thermically and Electrically
Low in Maintenance
Dimensional Stability
Non-magnetic
Have Electromagnetic Transparency
Available in Custom Colors
About Structural FRP Fiberglass Angle
FRP Angle from Fiberman is the durable, cost-effective and low maintenance option to build walkways, supports and other structural elements for highly demanding environments.
Our structural FRP members and shapes consist of a combination of fiberglass reinforcements and thermosetting polyester or vinyl ester resin systems. Fiberglass structural shapes are produced in more than 100 standard shapes.The surface of all fiberglass products has a surfacing-veil which increases corrosion and UV resistance.
Fiberman FRP Angle comes in various dimensions, providing you with the optimal strength for your FRP structure. See the listing of dimensions and weight per linear foot to the right. Fiberman carries stock in a distribution center close to you. Choose the profile that best suits your need.
For more technical information, including strength, weight and durability, we have a PDF brochure of all our FRP Structural Shapes.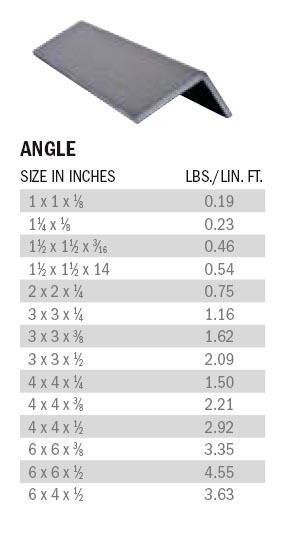 Fiberman Offers Fiberglass Angle Three Types of FRP Resin
See Which Resin is Right For Your Application
Non-Fire Retardant
Our all-purpose series of fiberglass shapes, with an isophthalic polyester resin system and UV inhibitor.
Fire Retardant
Another all-purpose series, with a fire retardant isophthalic polyester resin system and UV inhibitor.
Premium
A premium series of fiberglass angle, featuring both fire retardant properties and high corrosion resistance. These shapes use a vinyl ester resin system with a UV inhibitor.
Color: Beige
Applications for Fiberglass Angle
Fibreglass Angle are excellent for use in heavy traffic areas, such as outdoor walkways on drilling platforms, in WWTP water treatment plants, in livestock facilities and anywhere you require secure and durable walking surfaces. The anti-slip surfaces of these FRP Angle are an important safety feature in walkways where moisture is present.
Discuss the specific needs of your project with one of Fiberman's Fiberglass Angle experts. We will ensure that the material you select will have the specifications required for safety and optimum performance. You will also benefit from our industry-leading quick quote turnaround and fast delivery across Canada and the US.
For all FRP Angle Cover inquiries, please call 1.844.599.0260 or email sales@fiberman.ca or Request a Quote.

Fast Delivery via our Superior Logistics Network
Fiberman's headquarters in Western Canada stocks Fiberglass Angle, ready to ship across British Columbia, Alberta and all provinces in Canada. For our US customers, we ship from distribution centers in: Pittsburgh, PA; Houston, TX; Knoxville, TN; Rochester, MN; Salt Lake City, Utah; and Orlando, FL. Our pricing and service experts are standing by to help to find the best product for your project. With many varieties in stock and expedited shipping, we can supply your project with FRP Angle products at the best price.

Fiberglass and Radio Frequency Transparency
In today's connected world, we depend on cellular telephone signals, Wi-Fi networks and over the air radio and television signals. Wi-Fi and Bluetooth connectivity are essential to on-site work environments. Steel structures significantly disrupt these signals. FRP angle is an essential part of building structures that are "electronically transparent" and do not interfere with radio frequency transmissions.