Fiberglass Baffles and Structural Building Components
Pultruded Structural Fiberglass Baffles for Harsh Environments
Fiberman supplies FRP Baffles for use where chemical exposure degrades other materials. When considering the surface areas required for settling systems, engineers turn to FRP solutions from Fiberman because high-performance fiberglass baffles from Fiberman stand up to corrosive chemicals.
Fiberglass Baffles for Waste Water Treatment
Fiberglass Baffles offers superior performance in the demanding WWTP environment.
Baffle panels are available in different widths to offer flexibility in design and fabrication. The pultruded panels are pultruded with a resin system that has a UV inhibitor, and the glass reinforcements are covered by a surfacing veil for enhanced corrosion resistance and additional UV protection. Special resin systems to meet NSF 61 requirements are also available.
In modern WWTP plants, baffle systems aid in the even dispersion of chlorine throughout multiple contact chambers. Because chlorine is such a corrosive material, FRP baffles out-perform aluminum, stainless steel, poured in-place concrete and concrete columns. Fiberglass baffles are a very cost-effective option, especially when factoring in the long-term maintenance advantages of using durable FRP.

Fibers, Resin and Pultrusion Process Key to Fiberglass Baffles Strength
Fiberman Structural Fiberglass combines superior raw materials, composite design, and the pultrusion process to manufacture the highest quality pultruded fiberglass structural shapes possible. Because of their complex composition of fibres and resin, fiberglass Baffles have tremendous strength, retain their shape, and outperform other materials in corrosive conditions.
Chlorine and Steel
In highly corrosive environments, materials like stainless steel are susceiptible to Stress Corrosion Cracking, which is the growth of crack formation in a corrosive environment. It can lead to unexpected sudden failure of normally ductile metals subjected to a tensile stress. Fiberglass offers clear advantages in this regard.
Applications for Fiberglass Baffles
Fibreglass structures are excellent for harsh environments subject to chemical exposure, such as drilling platforms, in WWTP water treatment plants, in livestock facilities and anywhere you require extreme durability in environments with moisture and harsh cleaning or treatment chemicals. FRP baffles will consistently outperform rust-prone steel structures and aluminum in chlorine.
Discuss the specific needs of your project with one of Fiberman's Fiberglass Baffle experts. We will ensure that the material you select will have the specifications required for safety and optimum performance. You will also benefit from our industry-leading quick quote turnaround and fast delivery across Canada and the US.
For all Fiberglass Baffles inquiries, please call 1.844.599.0260 or email sales@fiberman.ca or Request a Quote.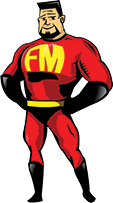 1.844.599.0260
Our experts are ready to help.
Bulk and Wholesale Discounts Available on Large Orders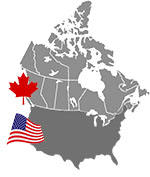 Fast Delivery across Canada and USA via our Superior Logistics Network
We can ship Fiberglass Baffles from a distribution center close to you:
Fiberman's headquarters in Western Canada stocks many Fiberglass Baffles dimensions, ready to ship across British Columbia, Alberta and all provinces in Canada. We have daily shipments from Vancouver to destinations including Edmonton, Calgary and Fort McMurray. For our US customers, we ship from distribution centers in: Pittsburgh, PA; Houston, TX; Knoxville, TN; Rochester, MN; Salt Lake City, Utah; and Orlando, FL.
Fiberman's pricing and service experts are standing by to help to find the best product for your project. With many varieties in stock and expedited shipping, we can supply your project with Fiberglass Baffles at the best possible price with fast delivery.

Fiberglass Baffles and Radio Frequency Transparency
In today's connected world, we depend on cellular telephone signals, Wi-Fi networks and over the air radio and television signals. Wi-Fi and Bluetooth connectivity are essential to on-site work environments. Steel structures significantly disrupt these signals. Fiberglass Baffles are an essential part of building structures that are "electronically transparent" and do not interfere with radio frequency transmissions.