Greyline DFS 5.1 Doppler Flow Switch – Vancouver BC
At Southwell Corp, we have been selling and supporting Greyline flow meters in Vancouver and throughout BC for over 15 years. Greyline DFS 5.1 Doppler Flow Switch Controls Flow From Outside a Pipe using a Non-Contacting Sensor.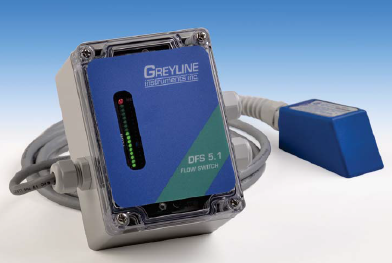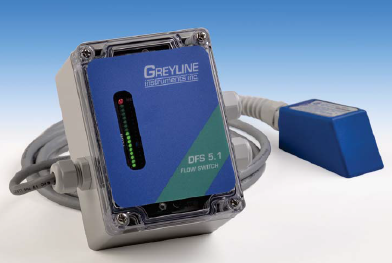 Greyline DFS 5.1 Doppler Flow Switch Clamp-on Flow Sensor Installs without cutting the pipe
No pressure drop
No sensor fouling
No maintenance
Call 1.844.599.0260 to request a quote or email sales@SouthwellCorp.com
Installs in Minutes No moving parts
Mount the DFS 5.1 ultrasonic sensor on the outside of metal or plastic pipes. The sensor continuously injects high frequency sound through the pipe wall and into the moving fluid where acoustic pulses are reflected back to the sensor from particles or bubbles in the fluid.
Ideal for "difficult" liquids. No contact, No maintenance
Flow rates of most liquids can be accurately controlled including acids, caustics, lubrication fluids, chemicals, abrasives, waste water and sludge. There are no moving parts and no sensor maintenance is required.
Easy Calibration
The compact, water tight electronics enclosure includes adjustable controls with separate ON and OFF relay set-points and time delay. A LED bar-graph for flow rate and set points plus relay status are included.
Installation can be made while the flow system is in full operation. No contact is made with the moving fluid and no holes are drilled in the pipe. There is no fouling or scale build-up on the sensor.
Non-Contacting Flow Control

Pump protection … High or Low flow control

Overfill alarm … Bargraph flow rate indication
No pipe cutting, No pressure drop, No sensor fouling, No maintenance!
It takes just a few minutes to install and calibrate a DFS 5.1 Flow Switch. The DFS 5.1 controls flow of most liquids in closed pipes. The ultrasonic sensor mounts on the outside of any pipe from 1/2″ to 180″ (12.5 mm to 4.5 m) I.D.
Easy to Calibrate
The DFS 5.1 control relay can be set to turn ON and OFF at any flow rate between 0.25 and 10 ft/sec (0.075 to 3 m/sec). Insert two links for separate ON/OFF set points or just one link for a Hi or Lo flow alarm. Set relay actuation time delay from 0 to 80 seconds.
Ideal for Pump Protection
Avoid expensive pump repairs and downtime. The DFS 5.1 strap-on Sensor can be installed in minutes without shutting down flow or cutting pipe. Use the adjustable relay time delay to eliminate relay "chatter" and reduce pump wear.
Reliable and Repeatable
Repeatability is ±0.1% of full scale (0.1 ft/sec or 0.003 m/sec). There are no moving parts and no maintenance is required. The clamp-on ultrasonic sensor cannot be damaged or fouled by contact with the liquid it measures. Sealed in a stainless steel housing, the DFS 5.1 sensor withstands moisture or accidental submersion in water up to 10 psi (69 Kpa).
Self-tunes to Extended Sensor Cable
Up to 500 ft (150 m) extra sensor coaxial cable can be added. Extended cable and junction box can be ordered from Greyline. The cable can be cut or extended as required during installation. The flow switch automatically tunes to the cable length. No circuit adjustment or calibration is required.
Designed for "difficult" liquids
The DFS 5.1 Doppler Flow Switch is recommended for flow control of liquids containing gas bubbles or solids: chemicals, slurries, sewage, sludge, viscous liquids, wastewater, caustics and abrasives. The ultrasonic sensor injects high frequency sound through the pipe wall into the flowing liquid. Acoustic pulses are continuously reflected back to the sensor and the DFS 5.1 measures a frequency shift to calculate flow velocity.
Easy to Install
The DFS 5.1 flow sensor installs without cutting the pipe. It takes just a few minutes to mount on the outside of any pipe. The switch/electronics enclosure can be mounted 20 ft (6 m) away from the sensor (optional up to 500 ft / 152 m) to simplify wiring to pumps, alarms, valves or other equipment.
Switch adjustments and electrical connections are fast and easy. The DFS 5.1 relay time delay is adjustable from 0 to 80 seconds to prevent nuisance alarms and relay "chatter" in turbulent flow. Includes switch selectable "normal" and "failsafe" operating modes.
Choose the DFS 5.1 Flow Switch for:
No contact with the measured liquid
No obstruction to flow – No pressure drop
Sensor mounts easily on the outside of the pipe
Can be installed while pipe line is in use
Insensitive to pressure, specific gravity and conductivity
Does not require pipe metering sections
Does not require consideration of material compatibility with the liquid
Greyline DFS 5.1 Doppler Flow Switch Availability
The Greyline DFS 5.1 Doppler Flow Switch  and other Greyline Flow Meters are available in BC through Southwell Corp. We ship to Vancouver, Victoria, Burnaby, New Westminster, Surrey, Abbotsford, Kelowna, Kamloops, Vancouver Island, Prince George and every other town in BC.
Call 1.844.599.0260 to request a quote or email sales@SouthwellCorp.com
Applications for Greyline Flow Meter Products
Greyline Flow Products are known across many industries as reliable sources of data for your flow systems.
Discuss the specific needs of your project with one of Fiberman's Greyline flow meter experts. We will ensure that the model you select will have the specifications required for safety and optimum performance. You will also benefit from our industry-leading quick quote turnaround and fast delivery across Canada and the US.
For all Greyline Flow Meter inquiries, please call 1.844.599.0260 or email sales@fiberman.ca or Request a Quote.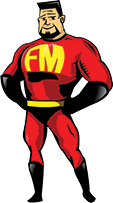 1.844.599.0260
Our Flow Meter experts are ready to help.
Bulk and Wholesale Discounts Available on Large Orders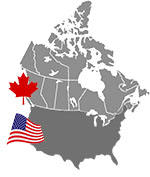 Fast Delivery across Canada and USA via our Superior Logistics Network
We can ship Greyline Flow Meters from a distribution center close to you:
Fiberman's headquarters in Western Canada stocks many Greyline Flow Meter models, ready to ship across British Columbia, Alberta and all provinces in Canada. We have daily shipments from Vancouver to destinations including Edmonton, Calgary and Fort McMurray. For our US customers, we ship from distribution centers in: Pittsburgh, PA; Houston, TX; Knoxville, TN; Rochester, MN; Salt Lake City, Utah; and Orlando, FL.
Fiberman's pricing and service experts are standing by to help to find the best product for your project. With many varieties in stock and expedited shipping, we can supply your project with flow meters at the best possible price with fast delivery.

Fiberglass and Radio Frequency Transparency
In today's connected world, we depend on cellular telephone signals, Wi-Fi networks and over the air radio and television signals. Wi-Fi and Bluetooth connectivity are essential to on-site work environments. Steel structures significantly disrupt these signals. Fiberglass Grating is an essential part of building structures that are "electronically transparent" and do not interfere with radio frequency transmissions.
https://fiberman.ca/wp-content/uploads/2015/06/Greline-DVS-5_1.png
263
392
alph@b3t
https://fiberman.ca/wp-content/uploads/2015/08/fiberman_logo_340x156_best.png
alph@b3t
2015-06-19 14:32:49
2018-04-27 15:30:44
Greyline DFS 5.1 Doppler Flow Switch