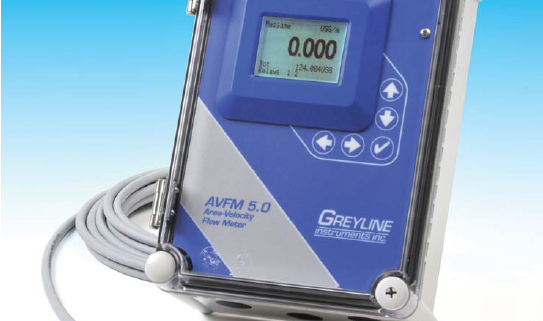 Greyline AVFM 5.0 Area-Velocity Flow Meter – Vancouver BC
Greyline AVFM 5.0
Area-Velocity Flow Meter for Open Channels and Pipes – No Flume or Weir Required
At Southwell Corp, we have been selling and supporting Greyline flow meters in Vancouver and throughout BC for over 15 years. The AVFM 5.0 Area-Velocity Flow Meter measures both Level and Velocity to calculate flow in an open channel or pipe.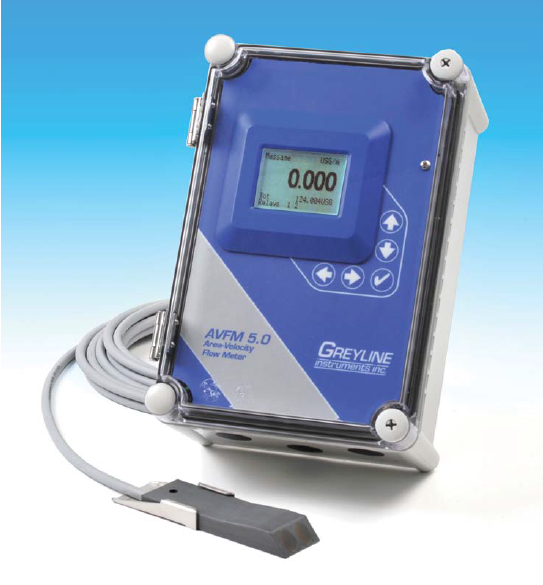 The AVFM 5.0 Area-Velocity Flow Meter
Measures Velocity + Level with an Ultrasonic Sensor to Monitor Flow
Display, Transmit and Totalize Flow in Open Channels and Pipes
Simple 5-key Calibration
Three 4-20mA Outputs
Two Control Relays
Measures Reverse Flow
Works in Irregular Channel Shapes
Call 1.844.599.0260 to request a quote or email sales@SouthwellCorp.com
Easy to Use
Calibration is simple: enter the pipe diameter or channel dimensions and the Greyline AVFM 5.0 Area-Velocity Flow Meter automatically computes and displays flow volume.
The ultrasonic sensor mounts inside the pipe or on the bottom of a channel with a stainless steel mounting bracket (included) and a single screw into the bottom of the pipe or channel. No special compounds, tools or hardware are required. The sensor is completely sealed with no orifices or ports.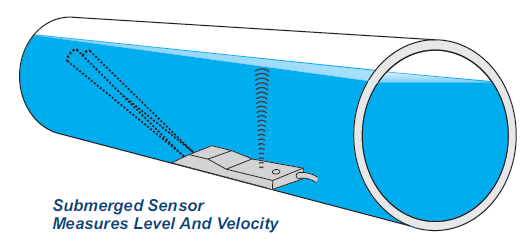 Recommended Pipe or Channel Conditions
The Greyline AVFM 5.0 Area-Velocity Flow Meter can measure forward flow velocity up to 20 ft/sec (6 m/sec) and reverse flow up to 5 ft/sec (1.5 m/sec). The electronics and software sample and average flow rates continuously to provide stable readings. The submerged velocity/level sensor will measure flow in partially full and surcharged pipes with pressure up to 10 psi. No special set-up or adjustment is required. Minimum recommended pipe diameter is 6" (150 mm).
Alternate Sensor Configurations
The standard sensor measures both velocity and level with a single submerged probe. It is installed in the pipe or channel floor with the stainless steel mounting bracket (supplied), or mounted with an optional stainless steel band for round pipes. Alternate sensor models are available for special applications: a separate non-contacting ultrasonic level sensor with a submerged velocity sensor. Sensor cable can be extended up to 500 ft (150 m).
Custom Channel Shapes
Calibrate the AVFM 5.0 for installation in irregular or compound channel shapes by entering the channel width at multiple level points through a simple menu. Channels of virtually any shape can be monitored with your choice of measurement units.
Optional 2-Million Point Data Logger
Choose the built-in data logger option if you want the Greyline AVFM 5.0 Area-Velocity Flow Meter to store time and date-stamped flow values at 10 second to 60 minute intervals. Transfer log files to any USB flash drive just by connecting to the logger's USB output. Windows software is included to display log files in graph and table formats, change measurement units and generate flow reports. Export data to Excel.
Measures Velocity + Level to calculate Flow
Measure flow in pipes and open channels of any shape
Ideal where flumes or weirs are difficult to install
Works with water level from 1″ (25.4 mm) to 15 ft (4.5 m)
Auto-detects field installation of options including data logger and control relays
The Greyline AVFM 5.0 Area-Velocity Flow Meter includes a submerged ultrasonic sensor that is installed at the bottom of an open pipe or channel. Exposed materials are plastic so the sensor resists fouling and corrosion. It has no moving parts and no orifices, ports or electrodes.
The AVFM 5.0 displays and totalizes flow. It includes three 4-20mA outputs (Flow, Level and Velocity), plus two control relays for level alarms or flow proportionate pulse output for samplers and chlorinators. It is easy to calibrate with the built-in keypad and menu system. A built-in 2-million point data logger with RS232 output is optional. Intrinsic Safety Barriers for sensor and cable installation in hazardous rated channels is also optional.
Greyline AVFM 5.0 Area-Velocity Flow Meter Availability
Greyline AVFM 5.0 Area-Velocity Flow Meters are available in BC through Southwell Corp.
We ship to Vancouver, Victoria, Burnaby, New Westminster, Surrey, Abbotsford, Kelowna, Kamloops, Vancouver Island, Prince George and every other town in BC.
Call 1.844.599.0260 to request a quote or email sales@SouthwellCorp.com

Applications for Greyline Flow Meter Products
Greyline Flow Products are known across many industries as reliable sources of data for your flow systems.
Discuss the specific needs of your project with one of Fiberman's Greyline flow meter experts. We will ensure that the model you select will have the specifications required for safety and optimum performance. You will also benefit from our industry-leading quick quote turnaround and fast delivery across Canada and the US.
For all Greyline Flow Meter inquiries, please call 1.844.599.0260 or email sales@fiberman.ca or Request a Quote.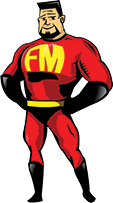 1.844.599.0260
Our Flow Meter experts are ready to help.
Bulk and Wholesale Discounts Available on Large Orders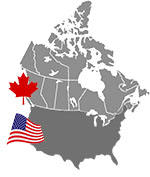 Fast Delivery across Canada and USA via our Superior Logistics Network
We can ship Greyline Flow Meters from a distribution center close to you:
Fiberman's headquarters in Western Canada stocks many Greyline Flow Meter models, ready to ship across British Columbia, Alberta and all provinces in Canada. We have daily shipments from Vancouver to destinations including Edmonton, Calgary and Fort McMurray. For our US customers, we ship from distribution centers in: Pittsburgh, PA; Houston, TX; Knoxville, TN; Rochester, MN; Salt Lake City, Utah; and Orlando, FL.
Fiberman's pricing and service experts are standing by to help to find the best product for your project. With many varieties in stock and expedited shipping, we can supply your project with flow meters at the best possible price with fast delivery.

Fiberglass and Radio Frequency Transparency
In today's connected world, we depend on cellular telephone signals, Wi-Fi networks and over the air radio and television signals. Wi-Fi and Bluetooth connectivity are essential to on-site work environments. Steel structures significantly disrupt these signals. Fiberglass Grating is an essential part of building structures that are "electronically transparent" and do not interfere with radio frequency transmissions.
https://fiberman.ca/wp-content/uploads/2015/06/Greyline-AVFM-5_1.png
585
543
alph@b3t
https://fiberman.ca/wp-content/uploads/2015/08/fiberman_logo_340x156_best.png
alph@b3t
2015-06-19 15:24:36
2018-04-27 15:30:41
Greyline AVFM 5.0 Area-Velocity Flow Meter