OCF 5.0 Open Channel Flow Monitor
Greyline OCF 5.0 Open Channel Flow Monitor – Vancouver BC
At Southwell Corp, we have been selling and supporting Greyline flow meters in Vancouver and throughout BC for over 15 years. Greyline OCF 5.0 Open Channel Flow Monitor accurately Measures Flow Through Flumes and Weirs.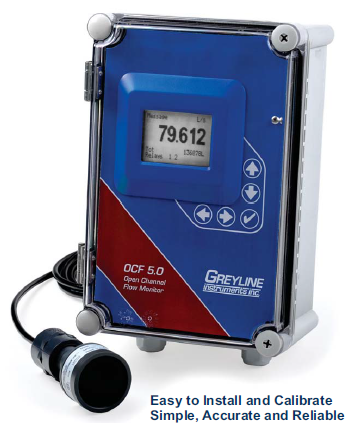 Greyline OCF 5.0 Open Channel Flow Monitor
Displays, Transmits
Totalizes and Data Logs
Simple 5-key Calibration
Password Protected
2 million point Data Logger
On-screen Flow Reports
USB Output to Flash Drives
4-20mA/0-5V Output
Call 1.844.599.0260 to request a quote or email sales@SouthwellCorp.com
Non-Contacting Sensor
The OCF 5.0 uses a non-contacting ultrasonic sensor mounted over a flume or weir to measure flow. It is accurate, reliable and verifiable. The separate, watertight electronics/display enclosure can be mounted within 500 ft (150 m) of the sensor. The OCF 5.0 continuously displays, totalizes, transmits and data logs open channel flow.
Use the built-in keypad for fast, easy calibration with menu selection of flume or weir and measurement units (e.g. gallons, liters etc.) Calibration values and data logs are password-protected and retained during power interruptions. The OCF 5.0 will display on-screen flow reports with daily l, minimum, maximum and average flow and will transfer data logs to a USB flash drive. PC software is included.
Built-in Data Logger Creates Flow Reports
Save time and labour — flow information is stored automatically
2-Million Point Data Logger
The OCF 5.0 stores time and date-stamped flow values at programmable intervals of 10 seconds to 60 minutes. Daily flow reports are automatically created and can be viewed right on the instrument's LCD display including total, minimum, maximum and average flow rates.
Easy Data Logger Downloads
You don't need a laptop to retrieve log files! Plug any USB Flash Drive into the OCF 5.0 USB output to download data log files automatically. Downloaded files are sequentially named by the flowmeter so log files from the same or multiple instruments can be stored on one flash drive.
Greyline Logger software for Windows
Greyline Logger is included with each OCF 5.0. This powerful software displays data in both graph and table formats. You can view flow data onscreen, generate flow reports and save files to disk. Graphs can be exported as images and data tables can be exported as delimited text files, or directly to Microsoft Excel.
Non-Contacting Ultrasonic Sensor
Each OCF 5.0 includes a non-contacting PZ15 sensor designed for the special requirements of open channel flow measurement. The sensor can be installed 8″ (203 mm) or more above the highest water level. The ultrasonic sensor beam is narrow enough to work on very small flumes and powerful enough for really large applications. The OCF 5.0 automatically tunes to extended cable lengths up to 500 ft (150 m) lengths.
OCF 5.0 Outputs Included
Connect the OCF 5.0′s isolated 4-20mA output to external displays, chart recorders or controllers and use the built-in relays for flow/level alarms and flow proportionate pulse to samplers, chlorinators or external totalizers.
Retains Memory during Power Interruptions
Date, time, calibration data and user settings are stored and retained in back-up battery protected memory. Data log files are in stored Secure Digital (SD) non-volatile memory.
Programmable for any Flume or Weir
The OCF 5.0 includes a built-in 5-button keypad for fast, easy calibration. Select your choice of engineering units (gallons, liters, cubic meters, etc.) and choose your flume or weir type from the menu.
The flowmeter also supports entry of flow formulae for non-standard flumes and weirs. 'Find K&n' software (included) can be used to calculate non-standard calibration constants for entry into the OCF 5.0 calibration menu.
Built-in control relays can be programmed for flow alarms or a flow proportionate pulse for remote totalizers, samplers or chlorinators. The isolated 4-20mA (or 0-5V) output can be connected to chart recorders, remote displays and controllers.
Smart Operating System
The OCF 5.0 tracks flow continuously through a flume or weir. False echoes from turbulence, splashing rain or snowfall are automatically rejected. Temperature compensation is automatic for high accuracy. Flow rate and totalizer are shown on the large backlit LCD display.
Greyline OCF 5.0 Open Channel Flow Monitor Availability
The Greyline OCF 5.0 Open Channel Flow Monitor is available in BC through Southwell Corp. We ship to Vancouver, Victoria, Burnaby, New Westminster, Surrey, Abbotsford, Kelowna, Kamloops, Vancouver Island, Prince George and every other town in BC.
Call 1.844.599.0260 to request a quote or email sales@SouthwellCorp.com
Applications for Greyline Flow Meter Products
Greyline Flow Products are known across many industries as reliable sources of data for your flow systems.
Discuss the specific needs of your project with one of Fiberman's Greyline flow meter experts. We will ensure that the model you select will have the specifications required for safety and optimum performance. You will also benefit from our industry-leading quick quote turnaround and fast delivery across Canada and the US.
For all Greyline Flow Meter inquiries, please call 1.844.599.0260 or email sales@fiberman.ca or Request a Quote.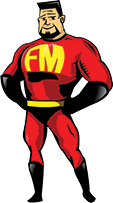 1.844.599.0260
Our Flow Meter experts are ready to help.
Bulk and Wholesale Discounts Available on Large Orders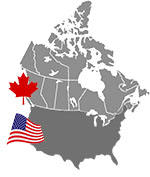 Fast Delivery across Canada and USA via our Superior Logistics Network
We can ship Greyline Flow Meters from a distribution center close to you:
Fiberman's headquarters in Western Canada stocks many Greyline Flow Meter models, ready to ship across British Columbia, Alberta and all provinces in Canada. We have daily shipments from Vancouver to destinations including Edmonton, Calgary and Fort McMurray. For our US customers, we ship from distribution centers in: Pittsburgh, PA; Houston, TX; Knoxville, TN; Rochester, MN; Salt Lake City, Utah; and Orlando, FL.
Fiberman's pricing and service experts are standing by to help to find the best product for your project. With many varieties in stock and expedited shipping, we can supply your project with flow meters at the best possible price with fast delivery.

Fiberglass and Radio Frequency Transparency
In today's connected world, we depend on cellular telephone signals, Wi-Fi networks and over the air radio and television signals. Wi-Fi and Bluetooth connectivity are essential to on-site work environments. Steel structures significantly disrupt these signals. Fiberglass Grating is an essential part of building structures that are "electronically transparent" and do not interfere with radio frequency transmissions.
https://fiberman.ca/wp-content/uploads/2015/06/Greyline-OCF-5_0.png
430
354
alph@b3t
https://fiberman.ca/wp-content/uploads/2015/08/fiberman_logo_340x156_best.png
alph@b3t
2015-06-19 14:18:23
2018-04-27 15:30:44
Greyline OCF 5.0 Open Channel Flow Monitor