Greyline LIT 25 Level Indicating Transmitter with Non-Contacting Ultrasonic Sensor 
Greyline LIT 25 Level Indicating Transmitter – Vancouver BC
At Southwell Corp, we have been selling and supporting Greyline flow meters in Vancouver and throughout BC for over 15 years. The Greyline LIT 25 Level Transmitter provides Level Monitoring and Control for Chemical Storage Tanks, Sumps, Reservoirs and Lagoons.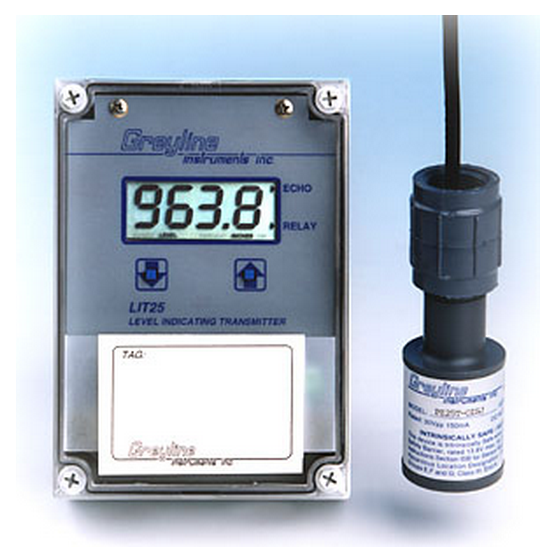 Cost Effective, Non-Contacting Level Transmitter
Simple Calibration with 2-button keypad
Large 4-digit LCD display
Non-Contacting, no maintenance sensor
Isolated 4-20mA output (1000 ohm)
Relay for alarm or control
Automatic temperature compensation
Low Cost High accuracy (±0.25%)
Call 1.844.599.0260 to request a quote or email sales@SouthwellCorp.com
The Greyline LIT25 Level Indicating Transmitter features a 4-20mA output rated up to 1000 ohms. This output is isolated and ready for direct connection to your PLC or Controller.
Mount the watertight display enclosure at a convenient location where the large, 4-digit LCD Display is visible to Operators. Use the built-in Keypad for calibration without climbing the Tank.
Use the LIT25 signal Relay output to control pumps and alarms. Calibrate for level, echo loss or temperature alarm.
Non-Contacting Sensor
The LIT25′s ultrasonic, echo-ranging sensor mounts at the top of the tank to continuously monitor level. No maintenance is required. A built-in temperature sensor is included to automatically compensate for changes in speed of sound due to temperature.
Level and temperature signals share a single coaxial cable which can be run up to 500 ft (152 m) to the electronics enclosure. The standard Sensor is rated for tank sizes up to 32 ft. (10 m) high, and is made with PVC and Teflon (an optional all-Teflon model is also available). The sensor and cable is rated intrinsically safe (with optional intrinsic safety barrier) for installation in hazardous rated tanks.
DESIGNED FOR OPERATOR CONVENIENCE
Mount the LIT25 Display enclosure at a convenient location for operators. The large LIT25 digital display indicates that it is calibrated in percent, inches or cm, and in RANGE or LEVEL mode. Relay status is also displayed and the ECHO symbol flashes to indicate that echos are being received normally.
Special LIT25 features like OUTPUT SIMULATION allow operators to test calibration, loop wiring, and relay set-points directly from the LIT25 keypad. Simplify calibration or tank measurement with the LIT25′s RANGE display – instantly display distance in inches or cm from the sensor to the target or liquid surface.
Greyline LIT 25 Level Indicating Transmitter Availability
The Greyline LIT 25 Level Indicating Transmitter and Grayline Flow Meters are available in BC through Southwell Corp.
We ship to Vancouver, Victoria, Burnaby, New Westminster, Surrey, Abbotsford, Kelowna, Kamloops, Vancouver Island, Prince George and every other town in BC.
Call 1.844.599.0260 to request a quote or email sales@SouthwellCorp.com
Applications for Greyline Flow Meter Products
Greyline Flow Products are known across many industries as reliable sources of data for your flow systems.
Discuss the specific needs of your project with one of Fiberman's Greyline flow meter experts. We will ensure that the model you select will have the specifications required for safety and optimum performance. You will also benefit from our industry-leading quick quote turnaround and fast delivery across Canada and the US.
For all Greyline Flow Meter inquiries, please call 1.844.599.0260 or email sales@fiberman.ca or Request a Quote.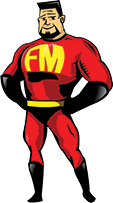 1.844.599.0260
Our Flow Meter experts are ready to help.
Bulk and Wholesale Discounts Available on Large Orders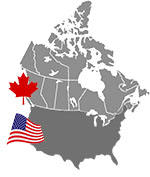 Fast Delivery across Canada and USA via our Superior Logistics Network
We can ship Greyline Flow Meters from a distribution center close to you:
Fiberman's headquarters in Western Canada stocks many Greyline Flow Meter models, ready to ship across British Columbia, Alberta and all provinces in Canada. We have daily shipments from Vancouver to destinations including Edmonton, Calgary and Fort McMurray. For our US customers, we ship from distribution centers in: Pittsburgh, PA; Houston, TX; Knoxville, TN; Rochester, MN; Salt Lake City, Utah; and Orlando, FL.
Fiberman's pricing and service experts are standing by to help to find the best product for your project. With many varieties in stock and expedited shipping, we can supply your project with flow meters at the best possible price with fast delivery.

Fiberglass and Radio Frequency Transparency
In today's connected world, we depend on cellular telephone signals, Wi-Fi networks and over the air radio and television signals. Wi-Fi and Bluetooth connectivity are essential to on-site work environments. Steel structures significantly disrupt these signals. Fiberglass Grating is an essential part of building structures that are "electronically transparent" and do not interfere with radio frequency transmissions.
https://fiberman.ca/wp-content/uploads/2015/06/Greyline-LIT-25.png
547
554
alph@b3t
https://fiberman.ca/wp-content/uploads/2015/08/fiberman_logo_340x156_best.png
alph@b3t
2015-06-19 14:39:18
2018-04-27 15:30:43
Greyline LIT 25 Level Indicating Transmitter