Greyline Stringray Level-Velocity Logger Flow Meter – Vancouver, BC
At Southwell Corp, we have been selling and supporting Greyline flow meters in Vancouver and throughout BC for over 15 years. The original and incredibly successful Stingray has been retired and we proudly introduce the Stingray 2.0 – with 4 important improvements:
USB interface upgrade (replaces RS-232 output)
Integrated faceplate design with no exposed cables or connectors
New hydrodynamic sensor design
New battery pack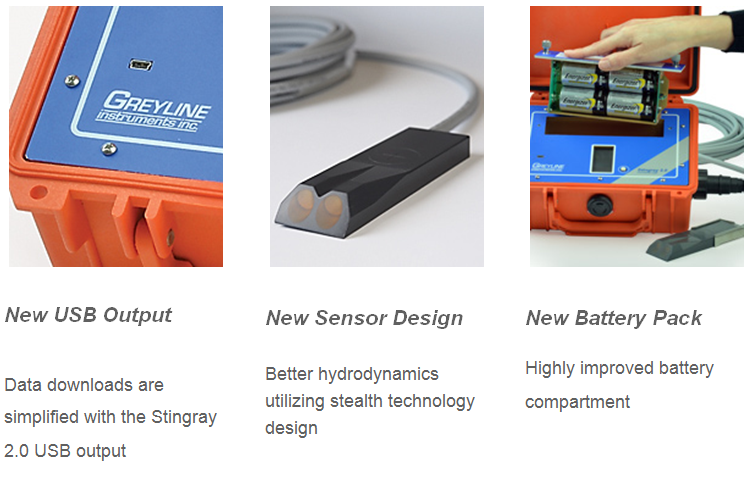 Call 1.844.599.0260 to request a quote or email sales@SouthwellCorp.com
Greyline Stingray 2.0 Portable Level-Velocity Logger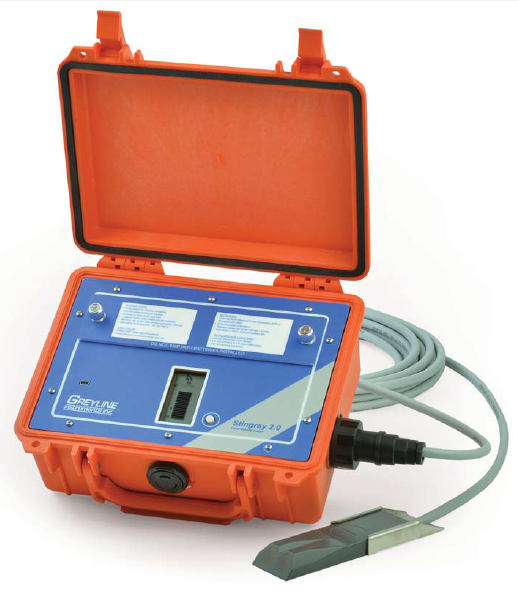 Measures Level, Velocity + Temperature in Open Pipes and Channels
Portable, Battery-powered
This compact new meter operates on standard alkaline batteries for extended time periods to data log level, velocity and water temperature in open channels, partially full sewer pipes and surcharged pipes without a flume or weir. It is designed for municipal stormwater, combined effluent, raw sewage, irrigation water and stream flow.
Streamlined Ultrasonic Sensor
Stingray 2.0 uses a hydrodynamic ultrasonic sensor to accurately measure both velocity and level in the channel. The submerged sensor has no moving parts and is resistant to fouling and corrosion.
Portable Area-Velocity Meter
Stingray 2.0 measures level and velocity in open channels or pipes. No calibration is required. The sensor is a completely sealed ultrasonic unit with no orifices or ports. It mounts inside the pipe or at the bottom of a channel. The watertight electronics enclosure is hung in the manhole or at a convenient location. Sensor, mounting bracket, batteries, software and cables are included with each Stingray.
Check out this video: "Stingray 2.0 Monitors Diversion Water":
Powered by Standard Alkaline Batteries
With 4 D-cell Alkaline batteries the Stingray 2.0 will operate up to 4 years! These low-cost batteries are available in stores everywhere and with an extremely low self discharge rate they will reliably power the energy-efficient Stingray 2.0 for the duration of your flow study.
Stores 130,000 Data Points
Stingray 2.0 stores up to 130,000 data points including level, velocity and water temperature. Between readings it hibernates to conserve energy.
USB Data Download
Connect your laptop or PC to the Greyline Stringray Level-Velocity Logger USB output to view realtime level and velocity readings, view remaining logger and battery capacity and to set the Stingray 2.0 logging interval.
Greyline Stringray Level-Velocity Logger Availability
Greyline Stringray Level-Velocity Logger Flow Meters are available in BC through Southwell Corp.
We ship to Vancouver, Victoria, Burnaby, New Westminster, Surrey, Abbotsford, Kelowna, Kamloops, Vancouver Island, Prince George and every other town in BC.
Call 1.844.599.0260 to request a quote or email sales@SouthwellCorp.com

Applications for Greyline Flow Meter Products
Greyline Flow Products are known across many industries as reliable sources of data for your flow systems.
Discuss the specific needs of your project with one of Fiberman's Greyline flow meter experts. We will ensure that the model you select will have the specifications required for safety and optimum performance. You will also benefit from our industry-leading quick quote turnaround and fast delivery across Canada and the US.
For all Greyline Flow Meter inquiries, please call 1.844.599.0260 or email sales@fiberman.ca or Request a Quote.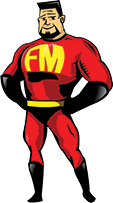 1.844.599.0260
Our Flow Meter experts are ready to help.
Bulk and Wholesale Discounts Available on Large Orders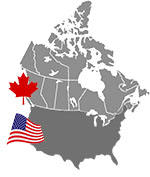 Fast Delivery across Canada and USA via our Superior Logistics Network
We can ship Greyline Flow Meters from a distribution center close to you:
Fiberman's headquarters in Western Canada stocks many Greyline Flow Meter models, ready to ship across British Columbia, Alberta and all provinces in Canada. We have daily shipments from Vancouver to destinations including Edmonton, Calgary and Fort McMurray. For our US customers, we ship from distribution centers in: Pittsburgh, PA; Houston, TX; Knoxville, TN; Rochester, MN; Salt Lake City, Utah; and Orlando, FL.
Fiberman's pricing and service experts are standing by to help to find the best product for your project. With many varieties in stock and expedited shipping, we can supply your project with flow meters at the best possible price with fast delivery.

Fiberglass and Radio Frequency Transparency
In today's connected world, we depend on cellular telephone signals, Wi-Fi networks and over the air radio and television signals. Wi-Fi and Bluetooth connectivity are essential to on-site work environments. Steel structures significantly disrupt these signals. Fiberglass Grating is an essential part of building structures that are "electronically transparent" and do not interfere with radio frequency transmissions.
https://fiberman.ca/wp-content/uploads/2015/06/Greyline-Stingray-2_0.png
599
519
alph@b3t
https://fiberman.ca/wp-content/uploads/2015/08/fiberman_logo_340x156_best.png
alph@b3t
2015-06-19 15:31:53
2018-04-27 15:30:40
Greyline Stringray Level-Velocity Logger