Greyline TTFM 1.0 Ultrasonic Flowmeter – Vancouver BC
At Southwell Corp, we have been selling and supporting Greyline flow meters in Vancouver and throughout BC for over 15 years. The Greyline TTFM 1.0 Ultrasonic Flowmeter provides accurate Flow Measurement of Clean Liquids with Non-Contacting Transducers.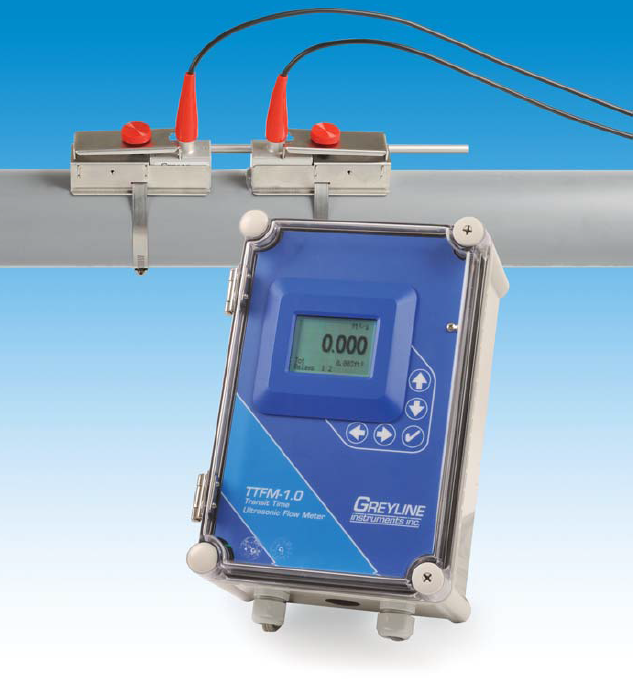 Greyline TTFM 1.0 Transit Time Flowmeter with Clamp-on Ultrasonic Transducers
Call 1.844.599.0260 to request a quote or email sales@SouthwellCorp.com
Non-Contacting Flow Measurement
Ultrasonic transducers mount on the of plastic or metal pipes to measure flow rate of clean, non-aerated fluids like water, chemicals, and oils. The outside clamp-on transducers can be mounted without shutting down flow. There is no pressure drop and no obstruction. Transducer separation distance is calculated by the flowmeter according to pipe diameter and wall thickness.
User-Friendly Operating System
Use the built-in keypad for fast, easy calibration with menu selection of pipe diameter, pipe material, liquid type and measurement units (gallons, liters etc.) Settings, calibration values and totalizer are retained during power interruptions.
Measures Flow from the Outside of Metal and Plastic Pipes
The TTFM 1.0 Transit Time Flowmeter works by measuring the "transit time" or "time of flight" for ultrasonic sound pulses transmitted from one transducer to another. Depending on the mounting configuration, the signal may cross the pipe once, twice or four times.
The time between transmitted and received signals is precisely measured by the flow meter. Ultrasonic signals are sent upstream and then downstream with the transducers alternating their functions as transmitters/receivers.
The transit time in the direction of flow is always faster than the transit time against the  flow. By comparing these differences with precision timing circuits, the Greyline TTFM 1.0 Ultrasonic Flowmeter is able  to accurately calculate the flow rate. Because the ultrasonic signal is forced to cross the  pipe, an average of the flow profile is calculated. So compensation for laminar or  turbulent flow is automatic.
TTFM 1.0 transducers can be mounted on vertical or horizontal pipes. The pipe must be  full. Choice of V, Z or W mounting method depends on the application and pipe diameter. V-Mount is the most common method while Z-Mount is used for larger pipes or weak signal applications and W-Mount for smaller pipes.
Works with Clean Liquids
The TTFM 1.0 Transit Time Flowmeter is designed for flow measurement of clean, non-aerated liquids in full pipes. High concentrations of solids or gas bubbles (>2% by volume) will attenuate sound and the Transit Time ultrasonic signal may not be able to cross the pipe. A Greyline Doppler-type flow meter is recommended for applications with solids or bubbles (eg. wastewater or slurries).
Works from the of Outside of Common Pipe Materials
Mount the TTFM 1.0 ultrasonic transducers on the outside of metal or plastic pipes including carbon steel, stainless steel, ductile iron, cast iron, PVC, PVDF, fiberglass, copper, brass,
aluminum and pipes with bonded liners including epoxy, rubber and Teflon. Avoid pipes made with porous materials (e.g. wood or concrete) or with loose insertion liners.
Simple Menu System for Fast, Easy Start-up and Calibration
Calibration and start-up can be done in a few minutes. Use the built-in 5-button keypad to enter the pipe material and OD, wall thickness and fluid type. The TTFM 1.0 will display the correct transducer separation distance and mounting method. Secure the stainless steel pipe clamps and align the mounting brackets on the outside of the pipe. Put coupling compound (included) on the transducer faces and insert them into the mounting brackets. The Greyline TTFM 1.0 Ultrasonic Flowmeter will immediately begin to  display, transmit and totalize flow.
Transducer Installation in Wet Locations
The TTFM 1.0 Transit Time Flowmeter transducers are rated for accidental submersion up to 10 psi (0.75 bar). The flowmeter will continue to operate and measure flow accurately during periods of submergence. Plastic seal jackets on the cables can be filled with coupling compound to provide additional moisture protection for the BNC cable connectors.
Easy to Install
Install TTFM 1.0 Transit Time Flowmeter without cutting the pipe or shutting down  flow. It operates on a wide range of metal and plastic pipe sizes and just takes just a few minutes to calibrate and start-up.
The flowmeter works by injecting sound through the pipe wall and into the flowing  liquid. The transducers transmit ultrasonic signals back and forth. The up and downstream "transit times" are precisely measured and compared to calculate the flow rate. Advanced signal processing software and electronics suppress interference and
measure flow with high repeatability and ±0.5 to 2% accuracy.
TTFM 1.0 Advanced Features
Plug-and-play options including a 2-million point data logger and extra control relays can be installed at any time. Power consumption is low (4 Watts typical) with standard AC and optional DC power input. Display backlight brightness is adjustable and 4-20mA output and relays can be disabled to reduce power consumption.
The TTFM ultrasonic transducers are waterproof and designed to operate in wet environments or during accidental submersion. Transducer cable length can be field- extended up to 250 ft (75 m) with optional shielded cable and junction box.
Greyline TTFM 1.0 Ultrasonic Flowmeter Availability
The Greyline TTFM 1.0 Ultrasonic Flowmeter and other Greyline Flow Meters are available in BC through Southwell Corp.
We ship to Vancouver, Victoria, Burnaby, New Westminster, Surrey, Abbotsford, Kelowna, Kamloops, Vancouver Island, Prince George and every other town in BC.
Applications for Greyline Flow Meter Products
Greyline Flow Products are known across many industries as reliable sources of data for your flow systems.
Discuss the specific needs of your project with one of Fiberman's Greyline flow meter experts. We will ensure that the model you select will have the specifications required for safety and optimum performance. You will also benefit from our industry-leading quick quote turnaround and fast delivery across Canada and the US.
For all Greyline Flow Meter inquiries, please call 1.844.599.0260 or email sales@fiberman.ca or Request a Quote.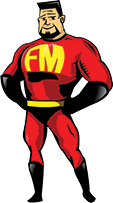 1.844.599.0260
Our Flow Meter experts are ready to help.
Bulk and Wholesale Discounts Available on Large Orders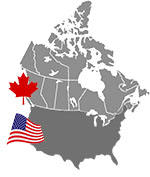 Fast Delivery across Canada and USA via our Superior Logistics Network
We can ship Greyline Flow Meters from a distribution center close to you:
Fiberman's headquarters in Western Canada stocks many Greyline Flow Meter models, ready to ship across British Columbia, Alberta and all provinces in Canada. We have daily shipments from Vancouver to destinations including Edmonton, Calgary and Fort McMurray. For our US customers, we ship from distribution centers in: Pittsburgh, PA; Houston, TX; Knoxville, TN; Rochester, MN; Salt Lake City, Utah; and Orlando, FL.
Fiberman's pricing and service experts are standing by to help to find the best product for your project. With many varieties in stock and expedited shipping, we can supply your project with flow meters at the best possible price with fast delivery.

Fiberglass and Radio Frequency Transparency
In today's connected world, we depend on cellular telephone signals, Wi-Fi networks and over the air radio and television signals. Wi-Fi and Bluetooth connectivity are essential to on-site work environments. Steel structures significantly disrupt these signals. Fiberglass Grating is an essential part of building structures that are "electronically transparent" and do not interfere with radio frequency transmissions.
https://fiberman.ca/wp-content/uploads/2015/06/Greyline-TTFM-1_0.png
679
633
alph@b3t
https://fiberman.ca/wp-content/uploads/2015/08/fiberman_logo_340x156_best.png
alph@b3t
2015-06-19 15:07:20
2018-04-27 15:30:41
Greyline TTFM 1.0 Ultrasonic Flowmeter