Fiberglass Grating – Winnipeg
If you are looking for fiberglass grating in Winnipeg, Fiberman has you covered. Fiberglass Grating is a strong, corrosion resistant alternative to steel or aluminum. FRP Grating and structural shapes can be used in chemical plants, Oil & Gas applications, and waste-water treatment plants where conventional materials will rust.
We have both molded and pultruded Fiberglass Grating in stock in Burnaby, BC  We can usually ship to Winnipeg the next day. FRP Grating can be used to build walkways, platforms, decking, catwalks, and stair treads. We can either ship complete FRP panels on cut the grating to size based on your specifications or drawings.
We stock molded grating in 3 x 10, 4 x 8, and 4 x 12 panel sizes in dark grey and yellow. We have 1″, 1.5″ and 2″ Deep panels. The farther apart your supports, the stronger and thicker grating will be required. Take a look at our Grating Select Chart to see the various profiles we offer or call toll free 1.844.599.0260 and we will help you select the best grating for your application.
You can also cut the panels to size yourself. Check out our video on How to Cut FRP.
One of our most popular profiles of pultruded grating is T-5000 2″ Thick. T-5000 will span 5 feet with a 300 pound concentrated load with only 0.18″ deflection.  For a complete load table click on: T-5000 Fiberglass Grating load table. Or ask us to email you a load table for any of our profiles.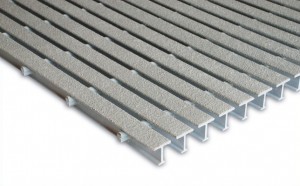 In Addition to Fiberglass grating, we also stock FRP Structural shapes such as Equal Leg Angle, Square Tube, C-Channel, and I-Beam. We also provide FRP railing and Ladders, FRP Plate (Flat Sheet) Threaded Rod, Round Pipe, and Safety Spray Shields.
We also have an in-house logistics department, and provide competitive freight rates on all of our shipments.
Call us at 1.844.599.0260 for a landed cost on your next fiberglass grating shipment to Winnipeg.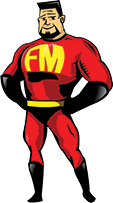 1.844.599.0260
Our FRP experts are ready to help.
Bulk and Wholesale Discounts Available on Large Orders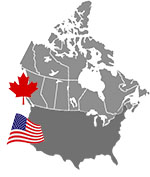 Fast Delivery of Fiberglass Grating to winnipeg,  and across Canada and USA via our Superior Logistics Network
We can ship Fiberglass Grating from a distribution center close to you:
Fiberman's headquarters in Western Canada stocks Fiberglass Grating ready to ship across British Columbia, Alberta and all provinces in Canada. We have daily shipments from Vancouver to destinations including Brandon, Dauphin, Flin Flon, Morden, Portage la Prairie, Selkirk, Steinbach, Thompson, and Winnipeg. For our US customers, we ship from distribution centers in: Pittsburgh, PA; Houston, TX; Knoxville, TN; Rochester, MN; Salt Lake City, Utah; and Orlando, FL.
Fiberman's pricing and service experts are standing by to help to find the best product for your project. With many varieties in stock and expedited shipping, we can supply your project with fiberglass grating at the best possible price with fast delivery.

Fiberglass and Radio Frequency Transparency
In today's connected world, we depend on cellular telephone signals, Wi-Fi networks and over the air radio and television signals. Wi-Fi and Bluetooth connectivity are essential to on-site work environments. Steel structures significantly disrupt these signals. Molded Fiberglass Grating is an essential part of building structures that are "electronically transparent" and do not interfere with radio frequency transmissions.
http://fiberman.ca/wp-content/uploads/2015/08/molded-fiberglass-grating-from-fiberman-best-price-canada.jpg
320
799
Richard Neuman
http://fiberman.ca/wp-content/uploads/2015/08/fiberman_logo_340x156_best.png
Richard Neuman
2014-11-26 23:18:13
2019-04-25 14:29:32
Fiberglass Grating Winnipeg