Fiberglass Stair Treads
Secure, Durable Footing from Fiberman
Outdoor stairs can be made with either pultruded fiberglass grating or fiberglass molded grating. These FRP Molded anti-slip stair treads are designed for a complete safety steps solution that will outlast metal stairs and outperform any steel staircase.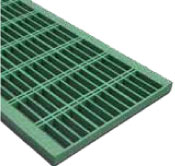 Applications
Safety Steps
Anti Slip Stair Treads / Non-Slip Stair Treads
Outdoor Stairs / Exterior Stairs
Non Skid Stair Treads
Anti Slip Stairs / Non Slip Stairs
Safety Stair Treads
Anti Slip Stair Nosings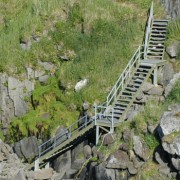 Fiberglass Stairs Outperform
Metal Stairs / Metal Staircase
Iron Stairs
Wood Stairs
Steel Stairs / Steel Staircase
Stainles Steel Stairs
Metal Stair Treads
Molded Grating Stair Treads and Stairs
Fiberman carries DURAGRATE® molded fiberglass stair treads are available in a 1-1/2″ thick 1-1/2″ x 6″ rectangular mesh pattern. The standard panel size is 22-1/2″ x 10′. Stair treads can be produced in any of the standard DURAGRATE® resin systems. The stair tread panel comes complete with anti-slip nosing.


Pultruded Fiberglass Grating Stairs
Pultruded Fiberglass Grating is the optimum solution for outdoor stairs. The properties of FRP are extremely helpful in outdoor situations:
Non-skid / Anti-Slip Surface
Corrosion Resistant
Extremely Strong
Impact Resistant
Low Electrical and Thermal Conductivity
Easily Fabricated in the Field
Pultruded Fiberglass Grating is used as stair treads by adding a nosing for Stair Treads and Landings. Stair treads and landings are produced by attaching a 2″ deep nosing to the leading edge. This gives added strength and rigidity to the area that takes the most impact and abuse. In addition, the nosing provides more surface area for skid resistance, wear and better visibility. Gray stair treads with yellow nosing are available at additional cost.
Pultruded FRP Stair Tread Option Chart

Pultruded Fiberglass Stairs Diagram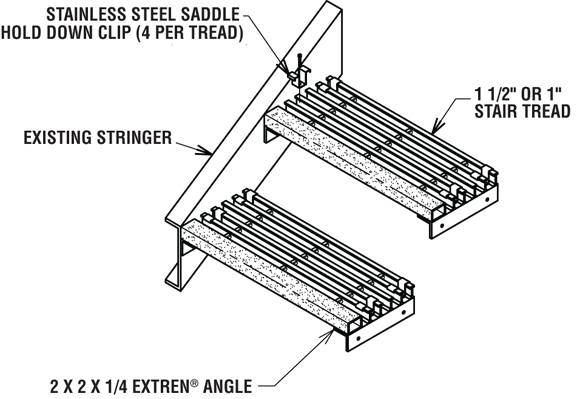 Fiberglass Stair Treads from Fiberman
FRP Stair Tread Covers are molded, non-slip and gritted, with a yellow nosing. They are the ideal solution for outdoor and slippery applications, featuring high corrosion resistance, durable grit, and easy installation. Anti-slip fiberglass stair tread covers made from molded fiberglass are 100% guaranteed, and provide the best in high visibility safety.
Our Price:
144.00
(You save

$81

)
Availability: Ships within 2 business days.
Resin: ISO- Polyester, Fire Retardant
Size (W x L x T): 12" x 12' x 1/8" Thick
Color: Black with Yellow Nosing
Surface: Gritted non-slip surface
Beveled Washers: $3.50 Each
Applications for Fiberglass Stair Treads
Fibreglass stair treads are excellent for use in heavy traffic areas, such as outdoor walkways on drilling platforms, in WWTP water treatment plants, in livestock facilities and anywhere you require secure and durable walking surfaces. The anti-slip surfaces of these FRP stair treads are an important safety feature in walkways where moisture is present.
Discuss the specific needs of your project with one of Fiberman's Fiberglass Stair Tread experts. We will ensure that the material you select will have the specifications required for safety and optimum performance. You will also benefit from our industry-leading quick quote turnaround and fast delivery across Canada and the US.
For all FRP Stair Treads inquiries, please call 1.844.599.0260 or email sales@fiberman.ca or Request a Quote.

Fast Delivery via our Superior Logistics Network
Fiberman's headquarters in Western Canada stocks Fiberglass Stair Tread Covers, ready to ship across British Columbia, Alberta and all provinces in Canada. For our US customers, we ship from distribution centers in: Pittsburgh, PA; Houston, TX; Knoxville, TN; Rochester, MN; Salt Lake City, Utah; and Orlando, FL. Our pricing and service experts are standing by to help to find the best product for your project. With many varieties in stock and expedited shipping, we can supply your project with FRP stair tread products at the best price.

Fiberglass and Radio Frequency Transparency
In today's connected world, we depend on cellular telephone signals, Wi-Fi networks and over the air radio and television signals. Wi-Fi and Bluetooth connectivity are essential to on-site work environments. Steel structures significantly disrupt these signals. FRP stairs are an essential part of building structures that are "electronically transparent" and do not interfere with radio frequency transmissions.