Ramco Spray Shields
Leak Protection and Warning in One Easy Solution from Fiberman
Protect the work environment from hazardous sprayouts with Ramco Spray Shields offered by Fiberman. Safety spray shields consist of a fiberglass, cloth or metal piece which is easily installed on pipe flanges, valves and joints to prevent any harmful fluid from injuring employees while at the same time providing a signal through a color-changing pad to notify personnel so that the leak can be contained quickly.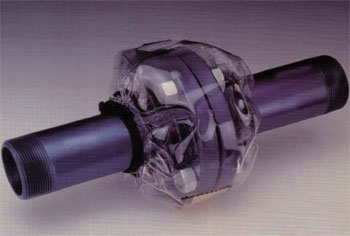 Saving Money
Safety spray shields protect employees and contribute to worker health and safety by minimizing absenteeism due to accidents caused by contact with leaking chemicals. They also keep costs down because there is no need to train replacement workers. Because they prevent sprayouts from harming personnel, safety spray shields help maintain stable health insurance rates and contain workmen's compensation claims.
How Safety Shields Protect
Safety spray shields prevent sprayouts at critical flanges, joints and valves by interposing an impregnable barrier between the chemical flowing through the piping system and the external environment.
They are made from special materials that are unaffected by chemicals and can tolerate exposure to various temperatures and pressures. In the event of a leak, the escaping fluid is controlled within the shield, and the pressure is dissipated, allowing the leaking chemical to drip harmlessly to the ground.
Safety shields are not designed to stop leaks permanently, but to indicate, contain and temporarily deflect escaping fluid, thereby preventing a sprayout. When shields have been installed, workers can approach a leaking pipe joint safely, shut off the system and make the necessary repairs.
Applications
RAMCO® manufactures different types of safety shields to accommodate the hundreds of liquid chemicals that are used in processing industries at varying temperatures and pressures. By selecting the appropriate shield for a specific application, virtually all situations can be safeguarded. Shields are suitable for liquids, including hazardous and corrosive chemicals, as well as water and steam. Shields should not be used with gases or solids.
Characteristics
Fiberman's Safety Shields deliver the safety and dependability that current technology can provide. Each model of safety shield has been subjected to laboratory and field testing. When the product successfully passes field testing, the shield is put into production, and rigid quality control assures no deviation from the standard.
When considering the specification or purchase of safety shields, the characteristics that should be explored include:
Mullen Burst Strength
Adequate Heat Resistance
Tensile Strength
Chemical Compatibility
Adequate Hem
Adequate Tie-Down Cord
Resistance to Ultra-Violet Light
Spray Shield Product Lines
Spra-Gard® Shields
Econo-Gard® Shields
Valve-Gard® Shields
Metal Safety Shields
Spra-Gard® Safety Shields
Protecting the work environment from dangerous spray-outs.
Our most widely used safety spray shields are Spra-Gard® Safety Shields. These are most frequently specified because of their wide range of physical characteristics.
Materials
Spra-Gard® Safety Shields are fabricated in three proprietary thermoplastic textiles:
Teflon* (tetrafluoroethylene or TFE coated fiberglass)
Polypropylene (PPL)
ECTFE
The two woven cloths – TFE and PPL – have a carefully engineered, patented "porosity concept". The fabrics are not impenetrable but slightly porous – too slight to permit a sprayout but sufficient to allow fluid to seep through to the indicating patch in the event of a leak.
ECTFE features a fluoropolymer clear film that forms the wide center band of the Spra-Gard® "See-Thru" Shields. This non-flammable film withstands temperatures up to 300°F (150°C) and has very high tensile strength. It also demonstrates excellent chemical resistance.
Design
Safety spray shields feature a sensitive pH indicator that changes color when even the slightest amount of leaking fluid comes in contact with it. The indicator turns brilliant red with an acid leak and bright green with an alkali leak. While the affected patch can no longer be used, it can be removed and replaced with another patch after the shield has been neutralized. The shield is then ready for reuse.
Installation
Spra-Gard® Safety Shields have an overlap design, for easy installation and completely wrapping around the pipe connections. This prevents a lateral sprayout. During installation, they are held in place by means of a velcro fastener. No tools are required, and a single installer can secure a shield over a flange or valve in less than a minute.
After quick installation with velco, a pair of tie-down cords need to be drawn tightly around the pipe and secured with a square knot.
Features
Spra-Gard® Shields can be used indoors and outdoors. They have undergone rigorous ultraviolet (UV) testing and performed without degradation for approximately 500 hours. This is equivalent to approximately four to five years of outdoor exposure in the tropics and even longer in a temperate zone.
Spra-Gard® Shields resist ignition and flame propagation.
Econo-Gard® Safety Shields
Protecting the work environment from dangerous spray-outs.
The most inexpensive safety spray shields are economical and dependable. The Econo-Gard Safety Shields are expertly designed to achieve a safe yet economic protective guard. The price is lower than the other shields because it is fabricated using non-labor-intensive heat sealing methods.
Materials
Econo-Gard® Safety Shields are available in two thermoplastic materials:
polyethylene (PE)
polyvinyl chloride (PVC) (white, red and clear)
While the different Econo-Gard® Safety Shields have slightly different characteristics, both feature the same design and configurations.
Applications
Econo-Gard® Safety Shields have a more limited range of applications from the other safety shields. They are able to endure temperatures up to 140°F (60°C), lower in the presence of certain chemicals such as concentrated acids. They have wide applications particularly in conditions with ambient temperatures and pressures of 300 psi (21 bar) or lower.
These economical spray shields are useful in chemical processing industries which have less hazardous chemicals at low temperatures and pressures. They are also used in food processing and waste water treatment facilities. PE Shields are used in phosphate mining, and PVC Shields are used in seawater desalination plants.
Design
The FRP Safety Shields have a wrap-around design, for easy installation and reliable covering of flanges. They are designed with a three-ply lamination with an inner core of non-woven spun cloth interfaced between two sheets of either PE or PVC. This provides six layers of resistance against sprayouts. Four layers consist of PE or PVC film and are chemically resistant; the remaining two of non-woven spun cloth provide tensile and burst strength.
Features
The Econo-Gard® Safety Shields feature pH patches which signal leaks. There are several weep holes behind the patch which allow a slight flow of chemical to the indicator. Once the indicator comes into contact with the fluid, it changes color, alerting plant personnel to the presence of a leak.
Econo-Gard® Safety Shields can come in a clear PVC option. These are ideal for easy visual inspection. They have the same high quality characteristics of the other shields, but allow easy viewing of pipe joint – flanges, valves and threaded connections. Because these safety spray shields are see-through, an indicating pH patch is not needed.
Durability is a key issue when it comes to protective equipment. The Econo-Gard® Safety Shields withstood approximately 430 hours of UV testing. a period equivalent to 8 or 9 years of outdoor exposure. With this kind of rugged durability, both PE and PVC safety spray shields may be installed either indoors or outdoors.
Valve-Gard® Safety Spray Shields
Protecting from spray-outs at valves.
Protect the wide variety of valves at your plant with Valve-Gard® Safety Spray Shields. In the chemical processing industries a wide range of harsh environments and performance requirements result in a wide selection of valves. Approximately one-third of all chemical plant emissions come from equipment leaks and valves are the biggest potential source of leaks and sprayouts. Valves are a major weak point in a piping system because they contain several areas from which leaks or sprayouts can occur.
A Wide Variety of Valves
Safety spray shields for valves are similar to the ones used for flanges in that they provide protection to employees from injuries and equipment from damage and shut-down. Unlike flanges, valve dimensions vary extensively, due to different manufacturers and styles. Because of this wide variance, valve shields must come in a wide array of shapes and sizes. Fiberman offers valve safety shields for nearly any application. The RAMCO® database maintains an extensive library of US and International valve manufacturers, updated regularly with changes in valve technology.
Metal Safety Shields
Rugged Protection for Any Environment.
They're not Fiberglass, but we offer them!
Made of 24-gauge steel, the metal safety spray shields are approximately 25 thousandth of an inch thick, ideal for safety shields. This thickness is heavy enough to withstand high pressures with the flexibility to permit shaping.
In the event of a leak, the fluid collects at the bottom of the shield where the overlapping slotted edge prevents a lateral blowout and allows the leaking condition to be highly visible without causing injury to plant personnel and equipment.
Materials
Three different types of metals are used for Metal Safety Shields:
Galvanized steel
"304" stainless steel
"316" stainless steel
Applications
Galvanized steel is used in water, oil and steam applications. Steel has been coated with zinc to reduce rusting, but it is vulnerable to corrosive attack and should not be used on lines carrying hazardous chemicals. When installed on vessels, shields must be equipped with a special inner galvanized mesh lining to break up the impact of a jet spray on the shield surface, eliminating up to 90% of lateral aerosol mist.
For corrosive environments the stainless steel "304" and "316" alloys are ideal. Stainless steel "304" contains 18-20% chromium and 8-10.5% nickel. They are suitable for applications requiring mild corrosion resistance.
Stainless steel "316" contains 16-18% chromium and 10-14% nickel as well as 2-3% molybdenum. The latter component gives the material superior resistance to pitting and to most types of corrosion, making "316" suitable for applications involving severe corrosive conditions. These safety shields are also available with inner stainless mesh linings.
Stainless steel safety spray shields are required when the line exceeds 450ºF (232ºC), since this is the heat limit for thermoplastic (frp) shields. There are also certain circumstances where the type of chemicals in the line may be incompatible with fiberglass safety shields, so metal shields are recommended.
Features
Stainless steel with a thickness of 24 gauge has a tensile strength of 3000 psi (207 bar), and a melting point of approximately 2650°F (1454°C). Although some pitting may occur due to corrosive fumes, stainless steel safety shields can be expected to provide many years of effective service. They have been approved by the United States Department of Agriculture for installation in food processing plants.
Metal Safety Shields are suitable for flanges and every type of valve in all size systems carrying steam, solvents, chemicals and corrosive agents. They are necessary in high pressure and high temperature applications.
Installation
Metal safety shields easily slip over existing pipe installations. They can be quickly put into place and fastened with a screwdriver.
Applications for Spray Sheilds in All Environments
Fiberman carries a full range of spray sheilds for every environment. Discuss the specific needs of your project with one of our experts. We will ensure that the spray guard you select will have the specifications required for safety and optimum performance. You will also benefit from our industry-leading quick quote turnaround and fast delivery across Canada and the US.
For all spray guard protection inquiries, please call 1.844.599.0260 or email sales@fiberman.ca or Request a Quote.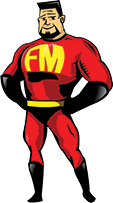 1.844.599.0260
Our experts are ready to help.
Bulk and Wholesale Discounts Available on Large Orders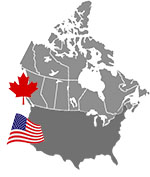 Fast Delivery across Canada and USA via our Superior Logistics Network
We can ship Spray Sheilds from a distribution center close to you:
Fiberman's headquarters in Western Canada stocks spray sheilds, ready to ship across British Columbia, Alberta and all provinces in Canada. We have daily shipments from Vancouver to destinations including Edmonton, Calgary and Fort McMurray. For our US customers, we ship FRP products from distribution centers in: Pittsburgh, PA; Houston, TX; Knoxville, TN; Rochester, MN; Salt Lake City, Utah; and Orlando, FL.
Fiberman's pricing and service experts are standing by to help to find the best product for your project. With many varieties in stock and expedited shipping, we can supply your project with spray sheilds, FRP Grating and Structures at the best possible price with fast delivery.

FRP Grating and Structures and Radio Frequency Transparency
In today's connected world, we depend on cellular telephone signals, Wi-Fi networks and over the air radio and television signals. Wi-Fi and Bluetooth connectivity are essential to on-site work environments. Steel structures significantly disrupt these signals. FRP Grating and Structures are an essential part of building structures that are "electronically transparent" and do not interfere with radio frequency transmissions.