FRP Grating – Molded or Pultruded?
There are two types of FRP Grating: Molded and Pultruded grating. Both types of Fiberglass Grating are strong, lightweight, and corrosion resistant, but there are some differences.
Molded Grating typically has a square mesh pattern similar to a checker board whereas PULTRUDED grating is made from a series of Parallel Bars.
The squares in the mesh pattern for Molded Grating are typically one and one-half inches on center. The top surface can be gritted as shown here, or a concave non-slip surface.
Other common Mesh patterns are 1 inch x 4 inch rectangular mesh and 1 x 6 as shown here on these molded stair treads.
The most popular panel sizes for molded grating are 4 feet by 12 feet, 4' x 8' and 3' x 10'.
Pultruded Grating consists of a series of parallel bearing bars. The bearing bars typically have a 'T' or 'I' shaped profile. The closer the bearing bars are together, the stronger the grating.
The bearing bars are kept parallel with a series of cross-rods 6" apart that run at 90 degrees though the bearing bars.
Cross-rods are not intended to be applied in the span direction.
Pultruded grating can only support weight in the direction of the bearing bars.
The bearing bars in Pultruded Grating must traverse from support to support whereas Molded Grating is equally strong in both directions.
Molded Grating panels can be rotated 90 degrees with the same support characteristics.
Both Molded Grating and Pultruded Grating are available in one inch, inch and one-half and 2" deep panels.
Call Fiberman at 1.844.599.0260 and we will help you determine the best type of grating for your application.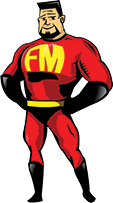 1.844.599.0260
Our FRP experts are ready to help.
Bulk and Wholesale Discounts Available on Large Orders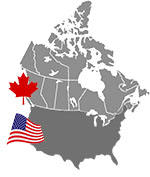 Fast Delivery of Molded Fiberglass Grating across Canada and USA via our Superior Logistics Network
We off the best Fiberglass Grating Prices and ship from a distribution center close to you:
Fiberman's headquarters in Western Canada features the best Molded Fiberglass Grating Prices, and we are ready to ship across British Columbia, Alberta and all provinces in Canada. We have daily shipments from Vancouver to destinations including Edmonton, Calgary and Fort McMurray. Our distribution center is close to Victoria, Nanaimo, Campbell River, Port Alberni, Powell River, Kamloops, Kelowna, Trail, Prince Rupert, Smithers and Prince George. For our US customers, we ship from distribution centers in: Pittsburgh, PA; Houston, TX; Knoxville, TN; Rochester, MN; Salt Lake City, Utah; and Orlando, FL.
Fiberman's fiberglass grating pricing and service experts are standing by to help to find the best product for your project. With many varieties in stock and expedited shipping, we can supply your project with the fiberglass grating prices with fast delivery.

Fiberglass and Radio Frequency Transparency
In today's connected world, we depend on cellular telephone signals, Wi-Fi networks and over the air radio and television signals. Wi-Fi and Bluetooth connectivity are essential to on-site work environments. Steel structures significantly disrupt these signals. Molded Fiberglass Grating is an essential part of building structures that are "electronically transparent" and do not interfere with radio frequency transmissions.
https://fiberman.ca/wp-content/uploads/2015/06/fiberman-figurine-close-up.jpg
227
300
alph@b3t
https://fiberman.ca/wp-content/uploads/2015/08/fiberman_logo_340x156_best.png
alph@b3t
2015-06-18 15:27:45
2018-04-27 15:30:51
FRP Grating – Molded or Pultruded?