Fiberglass FRP Molded Grating Canada
FRP Grating and Structural Shapes – IN STOCK in Ontario and Western Canada!
Fiberman provides Molded Grating and FRP Structural Shapes to customers across Canada and the USA. Our experts know the FRP grating that is right for your application and are standing by and ready to help. Our super buying power means that you will always get the best price from Fiberman.
Proven corrosion resistance is just one of the benefits of our molded grating. It's strong, lightweight and performs reliably for years, even in extreme conditions. Slip resistant coating options also enhance worker safety.
Our new Ontario fiberglass grating distribution center is up and running! Quick shipping to Toronto, London, Hamilton, Brampton, Mississauga, Kitchener-Waterloo, Ottawa, Sudbury, Ajax, Richmond Hill, Markham, Sarnia, Oakville, Oshawa, and Thunder Bay!
Our head office is centrally located in Burnaby, BC, our Vancouver and lower mainland customers have instant access to hundreds of panels of fiberglass grating and 20′ lengths of angle, beams, and c-channel, and tubing. We can usually ship next day to Richmond, Surrey, Delta, Langley, Abbotsford, Coquitlam, New Westminster, and North Vancouver.
Visit our Head Office warehouse at #102 – 5041 Regent St, Burnaby, BC V5C 4H4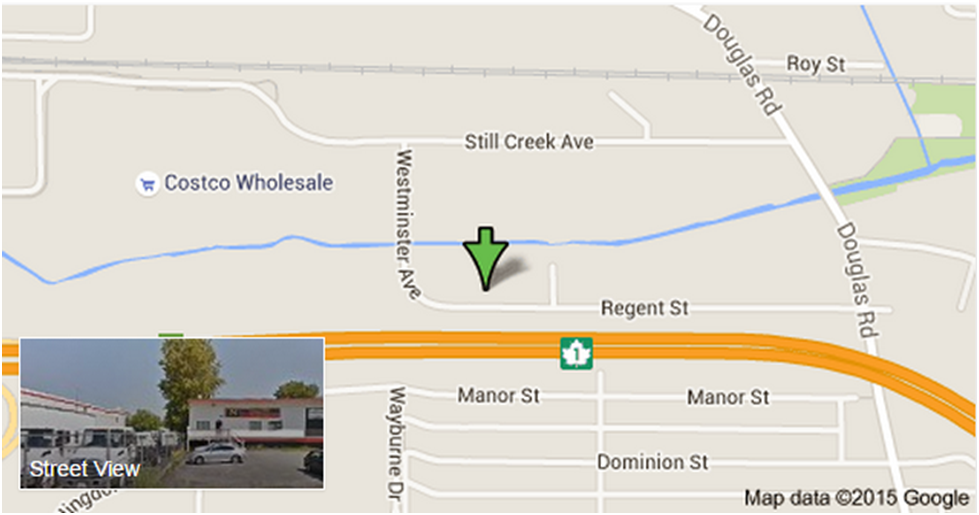 We're ready to answer your questions at 1.844.599.0260 or email us or send us a Quick Quote Request.
KEY FEATURES & BENEFITS
Reduced Maintenance Costs
The high resin-to-glass ratio (approximately 65% resin to 35% glass by weight) provides a long service life, so you won't have to replace FRP grating as often as other materials. And molded-through color eliminates the need for painting.
Stock or Custom Sizes
FRP molded grating is available in stock panels, or we can fabricate to size to meet your specifications. We can also design, engineer and fabricate complete fiberglass grating systems.
Simple Installation
Grating can be fabricated using standard tools.
Less Waste
Interwoven square mesh construction provides bi-directional strength, so you can cut grating to fit and make the most efficient use of each panel.
Dimensional Stability
A low coefficient of expansion and contraction makes our molded grating products dimensionally stable in many environments.
We stock  fiberglass grating in 3′ x 10′, 4′ x 8′, 4′ x 12′, and 5′ x 10′ panel sizes.
Panel Thicknesses are 1″, 1.5″ and 2″ deep. Colour selection includes Dark Grey, Light Grey, yellow, and green.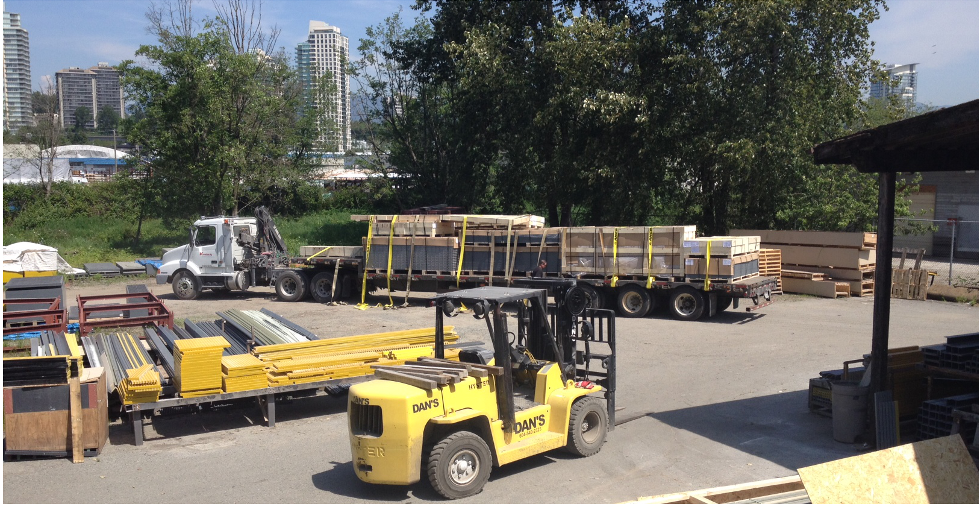 New stock arrives every week. Call 1-844-599-0260 for up-to-date prices and availability.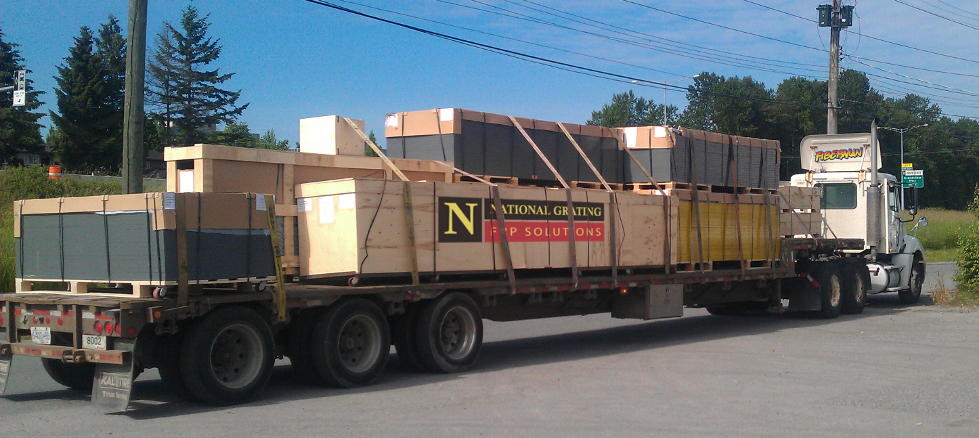 About Molded Fiberglass Grating
Molded fiberglass grating is a strong mesh grating panel used as floor grates and trench grates that are corrosive and chemical resistant, for many industrial applications.
Advantages of Molded Fiberglass Grating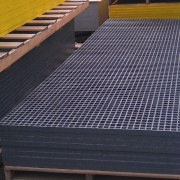 Cost
Molded grating costs less than Pultruded Fiberglass Grating, and has limited structural capabilities. It is the simplest, easiest way to cover a trench for highly corrosive environments. FRP Grating is cost-effective and allows for easy on-site cutting, to minimize cost and waste. Molded Fiberglass Grating from Fiberman is designed to last, with resin formulas optimized for UV resistance and durability in harsh environments, which means lower long-term maintenance costs.
Equal Strength Across Dimensions
FRP Gratings are molded in one piece with load-bearing bars that continue in both directions, which means continuous side support is unnecessary.
Safety for Jobsite and Production Plant Walking Surfaces
Molded FRP grating is available with a concave non-slip walking surface that is well-suited for trench grates. The large open surface area of molded grating means water does not build up on walking surfaces. For additional traction on walkways, grit top surfaces are available upon request.
Better Than Steel for Weight and Corrosion Resistance
Fiberman Fiberglass Molded Grating weighs much less than steel grating, and is therefore easier to install. The high resin content of molded FRP grating provides excellent corrosion resistance, unlike steel which will rust and require continual repainting, cleaning or replacement. Molded FRP grating requires very little maintenance, even in the harsh chemical environments associated with acidic or alkali environments that are found in many industrial applications, marine environments and waste water treatment plants.
Designed for Increased Tensile Strength
A higher safety factor is achieved by designing in a higher glass content at the bottom of the grating for greater tensile strength.
Grating Type and Performance
Not sure which type of grating is right for you? Have a look at our Grating Selection Chart.
To find the fiberglass grating with the performance characteristics you need, please review our Fiberglass Grating Load Tables.
Industry Use
Our molded FRP gratings have applications in many industries, including:
chemical processing
food & beverage
marine
oil & gas
power
manufacturing
construction
pharmaceutical
metals & mining
pulp & paper
recreation
water parks
telecommunications
IT server farms
shipping centers
transportation facilities
water & waste treatment, and
numerous architectural uses.
Types of Resin Systems For Molded Fiberglass Grating
Trench and Drain Grates are available in two resin systems which provide different levels of corrosion protection. Both resin systems meet Class 1 Flame Spread Rating per ASTM E-84 test standards. The glass fiber in our fiberglass grates is embedded in extremely high durability resins.
Polyester: A premium-grade isophthalic polyester resin system that provides excellent corrosion protection. Standard colors: Dark Gray, Light Gray, Yellow, and Green. Equivalent to Strongwell Duragrate PP.
Vinyl ester: A chemically resistant system that provides the highest level of corrosion protection. Standard colors: Yellow, Dark Gray, and Orange. Equivalent to Strongwell Duragrate VE.
Common Sizes
Common sheet sizes for molded FRP grating include: 4'x8′, 4'x12′, and 3'x10′. Common thicknesses include: 1″, 1.5″ and 2″. We hold stock on all sheet sizes and thicknesses in distribution centres across Canada and the USA, including Western Canada near Vancouver, BC and in Southern Ontario serving Toronto and the GTA. Call us for price and lead times.
Applications for Molded Fiberglass Grating
Molded Fiberglass Grating is excellent for use in heavy traffic areas, such as outdoor walkways on drilling platforms, in WWTP water treatment plants, in livestock facilities and anywhere you require secure and durable walking surfaces. Molded Fiberglass Grating comes with anti-slip surfaces as an important safety feature in walkways where moisture is present. Molded Fiberglass Grating has a large open area, and is not comfortable for bare feet. We recommend Pultruded Grating for any place that people will be walking in bare feet, such as waterparks or swimming pools.
Discuss the specific needs of your project with one of Fiberman's Molded Fiberglass Grating experts. Our sales and distribution teams in Ontario and BC will respond quickly to your needs. We will ensure that the material you select will have the specifications required for safety and optimum performance. You will also benefit from our industry-leading quick quote turnaround and fast delivery across Ontario and Western Canada and the US.
For all Molded Fiberglass Grating inquiries, please call 1.844.599.0260 or email sales@fiberman.ca or Request a Quote.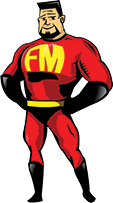 1.844.599.0260
Our experts are ready to help.
Bulk and Wholesale Discounts Available on Large Orders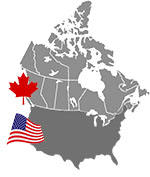 Fast Delivery across Ontario, Western Canada and USA via our Superior Logistics Network
Head Office: #102 – 5041 Regent St, Burnaby, BC V5C 4H4
We can ship Molded Fiberglass Grating from a distribution center close to you:
Fiberman's headquarters in Burnaby, BC stocks many Molded Fiberglass Grating profiles, ready to ship across British Columbia including Richmond, Surrey, Delta, Langley, Abbotsford, Coquitlam, New Westminster, and North Vancouver.
In Ontario, our Fiberman grate and FRP sheet distribution center is up and running! With regular shipments expedited to the GTA, Toronto, Hamilton, Brampton, London,  Markham, Mississauga, Sudbury, Ajax, Richmond Hill, Kitchener-Waterloo, Ottawa, Sarnia, Oakville, Thunder Bay, and Oshawa!
Fiberman's pricing and service experts in Ontario and BC are standing by to help to find the best product for your project. With many varieties in stock and expedited shipping, we can supply your project with Molded Fiberglass Grating at the best possible price with fast delivery. We also ship container loads at special bulk pricing for contractors.

Molded Fiberglass Grating and Radio Frequency Transparency
In today's connected world, we depend on cellular telephone signals, Wi-Fi networks and over the air radio and television signals. Wi-Fi and Bluetooth connectivity are essential to on-site work environments. Steel structures significantly disrupt these signals. Molded Fiberglass Grating is an essential part of building structures that are "electronically transparent" and do not interfere with radio frequency transmissions.
https://fiberman.ca/wp-content/uploads/2015/11/Forklift-in-Yard1.png
505
979
Richard Neuman
https://fiberman.ca/wp-content/uploads/2015/08/fiberman_logo_340x156_best.png
Richard Neuman
2015-11-26 21:49:32
2019-12-05 17:47:20
Fiberglass Molded Grating