Southwell Corp President Rick van Rikxoort featured – RBC Small Business Series
 Vancouver Sun April 15th, 2015
 
Bet there are a few things that you wish you'd known before starting a business
GOING OUT ON YOUR OWN CAN BE TOUGH, BUT NAVIGATING THE CHALLENGES AND OPPORTUNITIES OF THE ENTREPRENEURIAL LANDSCAPE IS A LOT EASIER IF YOU'RE PREPARED
Article by Joanne Richard
Special to QMI Agency

Listening and learning g from others who have 'been there, done that', is essential to growth and success, says Rick van Rikxoort, co-president of Southwell Corporation in B.C. Not that he did that.
"I wanted to be the Lone Ranger and do it all myself —my ego and pride got in the way," says the successful entrepreneur. "You need a support network when starting up — I have one now and they keep me sane, but I wish I had one at the beginning."
Going it alone is not an express elevator to the top, nor is trying to be everything to everyone.
"Focus on what you do well," stresses van Rikxoort whose insight and drive to increase sales of his industrial fiberglass structural products has been a boon to his business and also earned him the nickname "Fiberman". In 10 years, he's gone from $750,000 in annual sales to $4 million.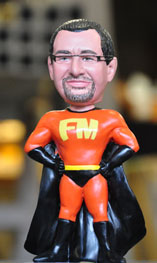 "Knowledge is still king—know your product, know your market," adds van Rikxoort, of Southwell Corp. com, who attributes his success to "doing it better than anyone else."
A great online presence plays a key role in his increased sales of 20% per year over the last three years. Expect trial and error, and don't get discouraged. "Stick it out — sometimes you have to give 110% when the business is only giving you 40%," adds van Rikxoort, who is now proudly debt free but occasionally dips into a "generous" $300,000 line of credit from RBC to finance receivables and a few small projects.
According to Steve Noussis, manager, Small Business, RBC, building a business requires patience, perseverance and a solid business plan.
"Don't be afraid to make mistakes!" Learn from the challenges in order to take your business to the next level. Noussis emphasizes the importance of having a solid plan in place with clear and realistic goals. RBC offers a variety of excellent tools and resources to help build a business plan, manage cash flow and connect to industry support.
As published in The Vancouver Sun, April 2015 – profile: Rick van Rikxoort
https://fiberman.ca/wp-content/uploads/2015/07/rick-2.jpg
321
600
alph@b3t
https://fiberman.ca/wp-content/uploads/2015/08/fiberman_logo_340x156_best.png
alph@b3t
2015-06-19 16:08:50
2018-04-27 15:30:40
Rick van Rikxoort featured in RBC Small Business Series