Fiberglass Hand Railing
At Fiberman we provide custom Fiberglass Hand Railing for industrial locations such as chemical and waste water treatment plants as well as water parks and swimming pools.
We can provide you with a quote on a FRP railing system from drawings that you provide, or you can order the railing parts and assemble the Fiberglass Hand Railing yourself.
Our FRP handrails are made from 2″ x 2″ OD square tubing with a 0.156″ wall which makes the railing strong and lightweight. The connections between the railing and posts are easy to assemble. All you need in some epoxy glue and some pop-rivets to secure the connections.
Send your drawings to sales@fiberman.ca or call 1.844.599.0260.
Industrial FRP handrails from Fiberman are commercial railing systems for stair rails, platform/walkway handrails and guardrails. Fiberglass Railing Systems are fabricated from pultruded fiberglass components and molded thermoplastic connectors. The railing systems are particularly well-suited to corrosive environments like those found in industrial, chemical and waste water treatment plants as well as commercial structures with urban and salt air corrosion.
Fiberglass Handrail Systems
• Corrosion resistant • Easy to field fabricate
• Structurally strong • Low in thermal conductivity
• Impact resistant • Low electrical conductivity
• Lightweight
Ease of Assembly — Fiberglass Railing systems are produced in lightweight standard sections that include both post and rail. Systems can be prefabricated in large sections and shipped to the site or they can also be fabricated and installed on site with simple carpenter tools.
Internal Connection System — All connections fit flush, resulting in a pleasing, streamlined appearance. The internal connections allow the construction of continuous handrail systems around circular tanks without special fittings.
Safety Features — FRP Railing Systems come in a "safety yellow color", feature low electrical conductivity for worker safety and exhibit high strength. Systems meet federal OSHA standards with a 2:1 factor of safety with a 6-foot (1830mm) maximum post spacing. Railing also complies with international standard AFNOR NF E 85-101.
Low Maintenance — Corrosion resistant fiberglass with molded-in color will outlast aluminum or steel systems with virtually no maintenance.
Cost Effective — Fiberglass components and easy-to-assemble design provide savings on labor and maintenance, resulting in long-term savings and elimination of the cost and inconvenience of "downtime for repairs" in plant operations.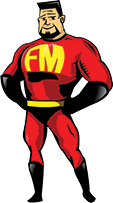 1.844.599.0260
Our FRP experts are ready to help.
Bulk and Wholesale Discounts Available on Large Orders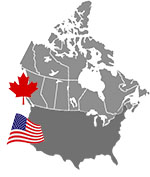 Fast Delivery of Fiberglass Grating across Canada and USA via our Superior Logistics Network
We can ship Fiberglass Hand Railing from a distribution center close to you:
Fiberman's headquarters in Western Canada stocks Fiberglass Hand Railing ready to ship across British Columbia, Alberta and all provinces in Canada. We have daily shipments from Vancouver to destinations including Edmonton, Calgary and Fort McMurray. Our distribution center is close to Victoria, Nanaimo, Campbell River, Port Alberni, Powell River, Kamloops, Kelowna, Trail, Prince Rupert, Smithers and Prince George. For our US customers, we ship from distribution centers in: Pittsburgh, PA; Houston, TX; Knoxville, TN; Rochester, MN; Salt Lake City, Utah; and Orlando, FL.
Fiberman's pricing and service experts are standing by to help to find the best product for your project. With many varieties in stock and expedited shipping, we can supply your project with fiberglass Hand Railing at the best possible price with fast delivery.

Fiberglass Hand Railing and Radio Frequency Transparency
In today's connected world, we depend on cellular telephone signals, Wi-Fi networks and over the air radio and television signals. Wi-Fi and Bluetooth connectivity are essential to on-site work environments. Steel structures significantly disrupt these signals. Fiberglass Hand Railing is an essential part of building structures that are "electronically transparent" and do not interfere with radio frequency transmissions.
https://fiberman.ca/wp-content/uploads/2015/07/fiberman-Chemainus-4G5.jpg
1600
1200
alph@b3t
https://fiberman.ca/wp-content/uploads/2015/08/fiberman_logo_340x156_best.png
alph@b3t
2015-06-18 16:14:39
2018-04-27 15:30:48
Fiberglass Hand Railing